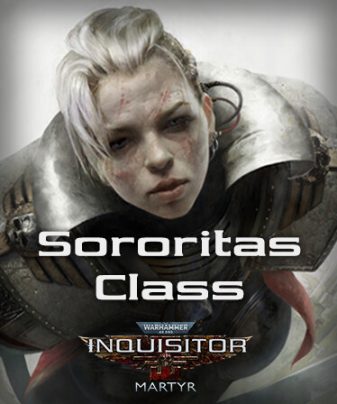 WARHAMMER 40,000: INQUISITOR – MARTYR – SORORITAS CLASS
This DLC adds a new playable class to Warhammer 40,000: Inquisitor – Martyr: an Inquisitor with an Adepta Sororitas background.
Also known as the Sisters of Battle, the Sororitas are devout followers of the Emperor, and a bastion against corruption and heresy across the Imperium. They lay waste to heretics with a wide array of weaponry ranging from Flamers to Blessed Blades, Power Mauls and Power Halberds, however their faith is said to be a weapon stronger than any steel. Through this zealous faith they invoke powers beyond measure to perform Saintly Deeds, silencing every last heretic's final cries.
Features:
• The Sororitas class brings new mechanics and artifact types to Warhammer 40,000: Inquisitor as well;
• Empower your character with various Acts of Faith and smite your enemies;
• Customize your playstyle through Sacred Rite passive skills;
• Transform into Embodied Saint form – a living vessel for the Emperor's will – and gain access to a wide array of unique abilities, feared across the entire Caligari Sector.
This content requires the base game Warhammer 40,000: Inquisitor – Martyr in order to play.
WARHAMMER 40,000: INQUISITOR – MARTYR © COPYRIGHT GAMES WORKSHOP LIMITED 2018. INQUISITOR – MARTYR, THE WARHAMMER 40,000: INQUISITOR – MARTYR LOGO, GW, GAMES WORKSHOP, SPACE MARINE, 40K, WARHAMMER, WARHAMMER 40,000, 40,000, THE 'AQUILA' DOUBLE-HEADED EAGLE LOGO, AND ALL ASSOCIATED LOGOS, ILLUSTRATIONS, IMAGES, NAMES, CREATURES, RACES, VEHICLES, LOCATIONS, WEAPONS, CHARACTERS AND THE DISTINCTIVE LIKENESS THEREOF, ARE EITHER ® OR TM, AND/OR © GAMES WORKSHOP LIMITED, VARIABLY REGISTERED AROUND THE WORLD, AND USED UNDER LICENCE.
ALL RIGHTS RESERVED TO THEIR RESPECTIVE OWNERS.
WARHAMMER 40,000: INQUISITOR – MARTYR – SORORITAS CLASS
Informations
| | |
| --- | --- |
| Publisher: | Neocore Games |
| Studio: | NeocoreGames |
| Label: | NeocoreGames |
| Platform: | PC |
Minimum Requirements
| | |
| --- | --- |
| OS: | 64-bit Windows 7+ |
| Processor: | Intel CPU Core i3-2120 (3.3 GHz) / AMD CPU FX-6300 (3.5 GHz) |
| Memory: | 4 GB RAM |
| Graphics: | Nvidia GeForce GTX 760 (2 GB) / AMD Radeon HD 7850 (2 GB) |
| DirectX: | 11 |
| Storage: | 1 GB HD space |
| Network: | Constant Online Connection |
Recommended Requirements
| | |
| --- | --- |
| OS: | 64-bit Windows 7+ |
| Processor: | Intel CPU Core i7-2600 (3.4 GHz) / AMD CPU FX-8320 (3.5 GHz) |
| Memory: | 8 GB RAM |
| Graphics: | Nvidia GeForce GTX 1060 (3 GB) / AMD Radeon RX 480 (4 GB) |
| DirectX: | 11 |
| Storage: | 1 GB HD space |
| Network: | Constant Online Connection |