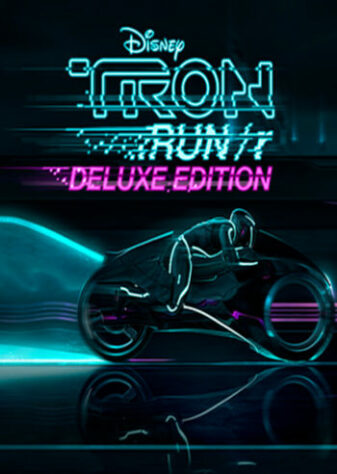 TRON RUN/R – DELUXE EDITION
Return to the world of TRON with TRON RUN/r, a new lightning fast, action-adventure runner with a twist! Purchase the TRON RUN/r Digital Deluxe Edition and get the full base game plus all planned add-on content:
• 18 additional levels of DISC and CYCLE
• 8 additional STREAM track elements
• 6 light cycles
• 3 suits for the core game
• Award of in-game currency
Plus the massive OUTLANDS Pack, an alternate game theme with:
• 16 more levels DISC and CYCLE
• 20 more STREAM elements
Blaze through dynamic circuits, facing-off against virulent adversaries while taking on all challengers. Pack your loadouts with dozens of combinations of cycles, suits and powerups. Hone your DISC and CYCLE skills on the 32 included levels, then challenge your friends to the grueling STREAM program that throws endless combinations of modes and levels at you until you crash – how long can you survive?
New music from EDM godfather Giorgio Moroder and Raney Shockne, Autechre, Bibio, patten, Joywave and others power you through this dazzling TRON universe. Just when you think you've mastered it all, you'll discover there's more here than meets the eye . . .
© Disney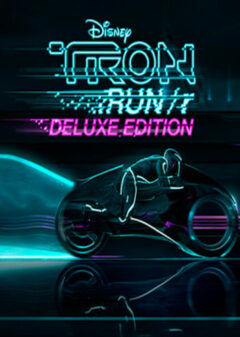 TRON RUN/R – DELUXE EDITION
Informations
| | |
| --- | --- |
| Publisher: | Disney |
| Studio: | Sanzaru Games |
| Label: | Disney Interactive |
| Platform: | PC |
Minimum Requirements
| | |
| --- | --- |
| OS: | Windows 7/8 64-bit |
| Processor: | Quad-core Intel or AMD, 2.5 GHz or faster |
| Memory: | 8 GB RAM |
| Graphics: | DirectX 11 compatible graphics card |
| DirectX: | Version 11 |
| Storage: | 5 GB available space |
Ratings
RATING SYSTEM: ESRB
EVERYONE 10+
FANTASY VIOLENCE
RATING SYSTEM: PEGI
7
Violence
RATING SYSTEM: USK
NA