theHunter: Call of the Wild
Genre:
Languages:
English, German, French, Portuguese, Russian
Why you should buy theHunter: Call of the Wild:
You are looking for an impressive hunting simulator.
You wish to experience the atmospheric open world.
You enjoy games with photorealistic graphic design.
The beauty of nature
theHunter: Call of the Wild is a beautifully created hunting simulator, which will make you fall for the realistic open world. With the true masterpiece landscapes and true-to-life animals, you'll quickly feel like the living and breathing part of this world. Watch the majestic wild animals and feel the adrenaline of hunting.
Diverse biomes
The world presented in theHunter: Call of the Wild offers you a variety of biomes and regions you can live the adventure in. You'll have to learn the well-recreated behaviors and routines of the animals. Analyze their traits and movement patterns to predict their next move. Bear in mind that each target has a different value, depending on size or weight.
Hunt the way you like
theHunter: Call of the Wild offers you a wide choice of different weapons, types of ammunition, as well as callers and scents, allowing you to lure the target towards you. Not every piece of equipment is suitable for a specific animal – choose wisely to succeed. Practice your aim regularly to get better and better results.
Gather your friends
This game offers you unique multiplayer options. From collaboration to competing – the choice is yours. Complete the several in-game challenges and join frequent hunting events. You can also opt for one of the paid DLC reserves with someone who owns the game already. The title is growing and evolving, as the devs team constantly works on this title.
theHunter: Call of the Wild: key features
Realistic hunting simulator,
Breathtaking landscapes and animals design,
Variety of targets,
Huge open world with different biomes,
Regularly released free and paid content.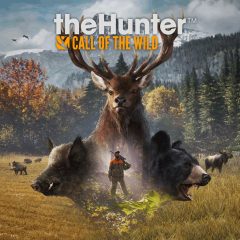 theHunter: Call of the Wild
Informations
| | |
| --- | --- |
| DEVELOPER: | Expansive Worlds |
| PUBLISHER: | Expansive Worlds |