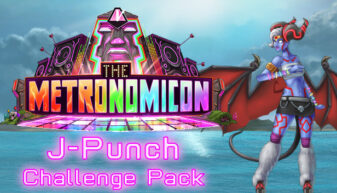 THE METRONOMICON – J-PUNCH CHALLENGE PACK
Genre:
Languages:
French Canadian and English, German, Italian, Spanish – Latin America
You need a break. It's time for something a bit more mellow, no?
Soothe yourself to the sounds of our first solo-artist challenge pack.
The very same gent who created all the cutscene and original music for the game… J-Punch!
Three new songs, three new challenges, and three new awesome pieces of gear!
It's time for the J-Punch challenge pack!
Is there a hero you really like? Earn an item that lets you ride a lane even harder.
It's hidden in in J-Punch's "Hours Late!"
Want an item that makes enemies spawn in twos, for an even bigger challenge?
Battle along-side a team of friendly Wisps for a strategic reward.
In J-Punch's "Shoes"!
Lastly, J-Punch's "Make It Blue" rounds out our first GottaGoFast-like playlist challenge.
Beat all three songs quick enough for an item Perfectly suited for a speedrun tournament.
And named after our champion!
All three songs are playable in both Freeplay and Arena modes!
And now in Story Mode too!!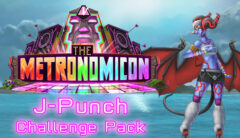 THE METRONOMICON – J-PUNCH CHALLENGE PACK
Informations
| | |
| --- | --- |
| Publisher: | Akupara Games |
| Studio: | Puuba |
| Label: | Akupara Games |
| Platform: | PC |
Minimum Requirements
| | |
| --- | --- |
| *Windows* | |
| OS: | Windows 7, 8.1, 10 |
| Processor: | Intel Core i3 or equivalent |
| Memory: | 2 GB RAM |
| Graphics: | 1GB, OpenGL 1.5 |
| Storage: | 2500 MB available space |
| *Mac* | |
| OS: | Intel-based Mac running Mac OS X 10.7.3 (Lion) or later |
| Processor: | Intel Core i3 or equivalent |
| Memory: | 2 GB RAM |
| Graphics: | 1GB, OpenGL 1.5 |
| Storage: | 2500 MB available space |
Recommended Requirements
| | |
| --- | --- |
| *Windows* | |
| Additional Notes: | You can use the following controllers for this game; M/K, Xbox 360 Controller, Xbox One Controller, PS3/PS4 controllers, PS3/4 Rock Band Guitars, XB Rock Band Guitars, our Custom "The Metronomicon" Dance Pad, plus the majority of USB Dance Pads (sadly we haven't tested them all so there is no guarantee on these) |
| *Mac* | |
| Additional Notes: | You can use the following controllers for this game; M/K, Xbox 360 Controller, Xbox One Controller, PS3/PS4 controllers, PS3/4 Rock Band Guitars, XB Rock Band Guitars, our Custom The Metronomicon; Dance Pad, plus the majority of USB Dance Pads (sadly we haven't tested them all so there is no guarantee on these) |