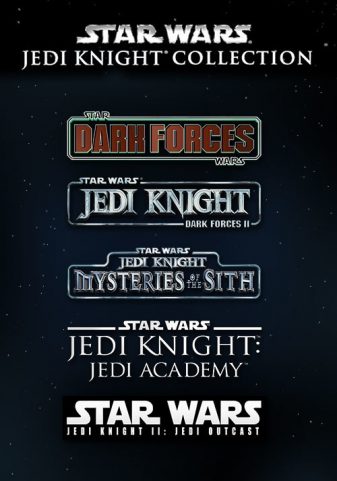 STAR WARS JEDI KNIGHT COLLECTION
Genre:
Languages:
French Canadian and English, German, Italian, Spanish – Latin America
- Star Wars Jedi Knight II : Jedi Outcast
The Legacy of Star Wars Dark Forces™ and Star Wars® Jedi Knight lives on in the intense first-person action of Jedi Outcast.
– Star Wars Jedi Knight : Dark Forces II
Dark Forces™ set the industry standard for first person action in the Star Wars® universe. Now Jedi Knight: Dark Forces II picks up where the award-winning game left off…with even more features and firepower in dazzling 3D graphics. As Kyle Katarn, you must acquire the lightsaber and learn the ways of the Force to become a Jedi Knight. Confront old foes… Greedo, Boosk, stormtroopers. And new enemies… seven dark Jedi who plan to harness the power of an ancient burial ground for unsurpassed evil. But take heart, your 10 weapon arsenal and over 12 Force powers make you a force to be reckoned with.
– Star Wars Jedi Knight : Jedi Academy
Forge your weapon and follow the path of the Jedi
Jedi Knight: Jedi Academy is the latest installment of the highly acclaimed Jedi Knight series. Take on the role of a new student eager to learn the ways of the Force from Jedi Master Luke Skywalker. Interact with famous Star Wars characters in many classic Star Wars locations as you face the ultimate choice: fight for good and freedom on the light side or follow the path of power and evil to the dark side.
– Star Wars Jedi Knight : Mysteries of the Sith
It is five years after Kyle's victory over the seven dark Jedi. Invading Imperial forces advance upon a quiet Rebel outpost, interrupting Kyle's training of a brave new Jedi, Mara Jade. First introduced in Timothy Zahn's award-winning Star Wars novel, Heir to the Empire, Mara Jade blends her past experiences as a one time smuggler and Emperor's Hand with her apprenticeship as a Jedi Knight. Armed with four new weapons and five new Force powers, Mara must secure supplies desperately needed by the New Republic while Kyle, believing it a part of his destiny, pursues the secret treasures shrouded in an ancient Sith temple.
Can the New Republic's boldest female Jedi protect the Rebel base, negotiate with Ka'Pa the Hutt, then ward off a phalanx of enemies?
Will the ancient secrets of the Sith unleash new powers?
Are Kyle and Mara strong enough to resist the temptations of the dark side, or will new entanglements seduce them?
– Star Wars : Dark Forces
Behind a veil of secrecy the evil Empire is creating a doomsday army – one that, if finished, will become the final cog in the Empire's arsenal of terror and domination.
Your Mission? Join the Rebel Alliance's covert operations division, infiltrate the Empire, then battle every man and machine the Imperial Forces can muster. Search a vast galaxy for clues, attack enemy bases-all in a desperate attempt to stop the activation of this fearsome new weapon.
Stars Wars Jedi Knight II : Jedi Outcast
– As Kyle Katarn, agent of the New Republic, use your Lightsaber and the full power of the Force to combat a new evil plaguing the galaxy.
– Wield over 8 Force abilities including the Jedi Mind Trick, Force Lightning and Force Grip.
– Choose wisely from an arsenal of 13 weapons including disruptor rifle, thermal detonators, trip mines and Wookiee bowcaster.
– Play on-line with 2-32 players or against a variety of AI Bots – and gain an additional 7 Force powers.
– Test your skills in 24 single-player missions and in 6 different types of multiplayer games including Jedi Master, Holocron, Capture the Ysalamiri, Duel, Deathmatch and Capture the Flag.
– Interact with legendary Star Wars characters such as Luke Skywalker and Lando Calrissian (featuring the voice of Billy Dee Williams as Lando.)
– Developed by critically acclaimed Raven Studios and powered by the Quake III Arena engine.
Star Wars Jedi Knight : Dark Forces II
– Single or multiplayer gameplay over modem, network or Internet. 9 multiplayer levels
– All new realistic 3D environments with animated 3D characters in 21 heart-stopping levels
– Encounter seven dark jedi, each possessing unique powers
– Compatible with many 3D graphics cards
– Intense Star Wars action in an all-new story fraught with danger and adventure – do you take the quick and easy path as Darth Vader did or do you take the patient route to Jedi Knighthood?
If you choose the light side:
– Train to become a Jedi Knight – master the elegant Lightsaber and learn four special apprentice abilities
– Use exclusive light side powers: healing, persuasion (for the weak-minded), blinding and absorption
Or be tempted by the dark side:
– Use your Jedi Knight training and apprentice abilities to become an agent of evil
– Use exclusive dark side powers: the grip (used if there's a disturbing lack of faith), Force throw, energy bolts and destruction
Stars Wars Jedi Knight : Jedi Academy
– Customize your character by defining both look and gender before entering the Academy to learn the power-and dangers- of the Force.
– Construct your own Lightsaber from handle to blade. As you progress, discover the power of wiedling two Lightsabers or the ultimate double-bladed Lightsaber made famous by Darth Maul.
– New vehicles, weapons, force powers and Star Wars locations.
– Unique level selection system allows you to choose your own missions and adventures.
– Six multiplayer modes including team based siege mode and two-on-one power duel. Fight in 23 multiplayer arenas!
Stars Wars Jedi Knight : Mysteries of the Sith
– Bring a Whole new game experience to Jedi Knight. Jam-packed features make Mysteries of the Sith a must-have for Jedi Knight fans
– New playable character, Mara Jade, introduced first in Timothy Zahn's award-winning Star Wars novel, Heir to the Empire
– 14 new levels, 13 total locations, including wampa-infested swamps, the foreboding fortress of Ka'Pa the Hutt, and the subterranean catacombs of a temple deep within the planet Drommund Kaas
– 4 new weapons, including a carbonite gun, repeating blaster cannon, and sniper scope
– 5 new Force powers, featuring Force Push, Saber Throw, and Force Projection
– Over 2 dozen new enemies – gladiator, assassin and torture droids, pirate raiders, creatures of the Sith, and a menacing rancor
– 3 new multiplayer personalities, with distinct characteristics, weapons and inventory
Plus these new game advances:
– Cameras that let you monitor where you are in the heat of battle
– Enhanced lighting features, including colored lighting support
– A new multiplayer game, Kill the Fool with the Ysalamiri
Choose wisely and May the Force Be With You.
Stars Wars : Dark Forces
– Fully interactive environments – morphing walls and floors, moving platforms, and conveyors, realistic lighting and atmospheric effects.
– First-person ground combat. Call on 10 weapons to fight twenty types of enemies.
– Explore the virtual Star Wars universe up close and personal.
– Climb catwalks, look and shoot up and down, jump off ledges, wade through garbage.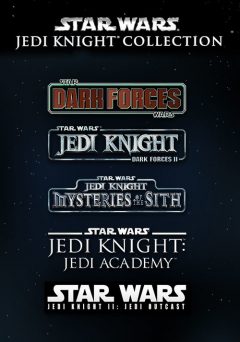 STAR WARS JEDI KNIGHT COLLECTION
Informations
| | |
| --- | --- |
| Publisher: | Disney |
| Studio: | LucasArts |
| Label: | Disney |
| Platform: | PC |
Minimum Requirements
| | |
| --- | --- |
| Graphic: | 16 MB |
| OS: | Windows XP |
| OS: | Windows Vista |
| OS: | Windows 2000 |
| CPU: | Athlon 0.350GHz |
| CPU: | Pentium II 0.350GHz |
| Memory: | 0.64GB |
| Storage: | 0.8GB |
| Sound: | Direct X 8.0a |
Ratings
RATING SYSTEM: ESRB
TEEN
VIOLENCE
RATING SYSTEM: PEGI
+12
Violence
RATING SYSTEM: USK
16