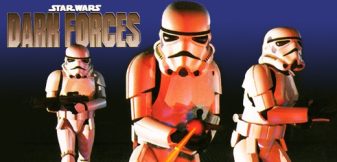 STAR WARS : DARK FORCES
Genre:
Languages:
French Canadian and English, German, Italian, Spanish – Latin America
Behind a veil of secrecy the evil Empire is creating a doomsday army – one that, if finished, will become the final cog in the Empire's arsenal of terror and domination.
Your Mission? Join the Rebel Alliance's covert operations division, infiltrate the Empire, then battle every man and machine the Imperial Forces can muster. Search a vast galaxy for clues, attack enemy bases-all in a desperate attempt to stop the activation of this fearsome new weapon.
– Fully interactive environments – morphing walls and floors, moving platforms, and conveyors, realistic lighting and atmospheric effects.
– First-person ground combat. Call on 10 weapons to fight twenty types of enemies.
– Explore the virtual Star Wars universe up close and personal.
– Climb catwalks, look and shoot up and down, jump off ledges, wade through garbage.
LucasArts, the LucasArts logo, STAR WARS and related properties are trademarks in the United States and/or in other countries of Lucasfilm Ltd. and/or its affiliates. © 1995-2009 Lucasfilm Entertainment Company Ltd. or Lucasfilm Ltd. All rights reserved.
Informations
| | |
| --- | --- |
| Publisher: | Disney |
| Studio: | LucasArts |
| Label: | LucasArts |
| Platform: | PC |
Minimum Requirements
| | |
| --- | --- |
| OS: | Windows 2000, XP or Vista |
| Processor: | 486 or higher |
| Memory: | 16 MB |
| Graphics: | DirectX |
| DirectX®: | DirectX 5.2 |
| Hard Drive: | 80 MB |
| Sound: | 16-bit sound card |
Ratings
RATING SYSTEM: ESRB
TEEN
VIOLENCE
RATING SYSTEM: PEGI
Not Rated
RATING SYSTEM: USK
NA