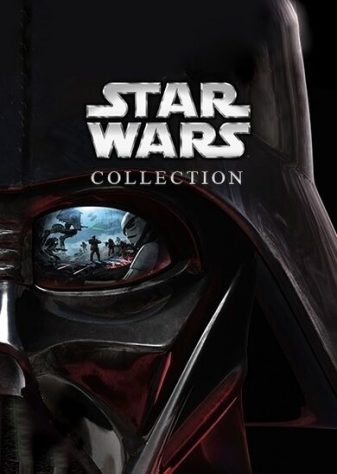 - Star Wars Battlefront II
With brand new space combat, playable Jedi characters, and over 16 all new battlefronts, Star Wars Battlefront II gives you more ways than ever before to play the classic Star Wars battles any way you want.
– Stars Wars Jedi Knight II : Jedi Outcast
The Legacy of Star Wars Dark Forces™ and Star Wars® Jedi Knight lives on in the intense first-person action of Jedi Outcast.
– Star Wars Jedi Knight : Dark Forces II
Dark Forces™ set the industry standard for first person action in the Star Wars® universe. Now Jedi Knight: Dark Forces II picks up where the award-winning game left off…with even more features and firepower in dazzling 3D graphics. As Kyle Katarn, you must acquire the lightsaber and learn the ways of the Force to become a Jedi Knight. Confront old foes… Greedo, Boosk, stormtroopers. And new enemies… seven dark Jedi who plan to harness the power of an ancient burial ground for unsurpassed evil. But take heart, your 10 weapon arsenal and over 12 Force powers make you a force to be reckoned with.
– Stars Wars Jedi Knight : Jedi Academy
Forge your weapon and follow the path of the Jedi
Jedi Knight: Jedi Academy is the latest installment of the highly acclaimed Jedi Knight series. Take on the role of a new student eager to learn the ways of the Force from Jedi Master Luke Skywalker. Interact with famous Star Wars characters in many classic Star Wars locations as you face the ultimate choice: fight for good and freedom on the light side or follow the path of power and evil to the dark side.
– Stars Wars Jedi Knight : Mysteries of the Sith
It is five years after Kyle's victory over the seven dark Jedi. Invading Imperial forces advance upon a quiet Rebel outpost, interrupting Kyle's training of a brave new Jedi, Mara Jade. First introduced in Timothy Zahn's award-winning Star Wars novel, Heir to the Empire, Mara Jade blends her past experiences as a one time smuggler and Emperor's Hand with her apprenticeship as a Jedi Knight. Armed with four new weapons and five new Force powers, Mara must secure supplies desperately needed by the New Republic while Kyle, believing it a part of his destiny, pursues the secret treasures shrouded in an ancient Sith temple.
Can the New Republic's boldest female Jedi protect the Rebel base, negotiate with Ka'Pa the Hutt, then ward off a phalanx of enemies?
Will the ancient secrets of the Sith unleash new powers?
Are Kyle and Mara strong enough to resist the temptations of the dark side, or will new entanglements seduce them?
– Stars Wars Republic Commando
Chaos has erupted throughout the galaxy. As leader of an elite squad of Republic Commandos, your mission is to infiltrate, dominate, and ultimately, annihilate the enemy. Your squad will follow your orders and your lead, working together as a team – instinctively, intelligently, instantly. You are their leader. They are your weapon.
– Stars Wars Starfighter
Join three heroic starfighter pilots in harrowing deep space and planetary missions to save the planet of Naboo. Rookie Naboo pilot Rhys Dallows, mercenary Vana Sage and alien pirate Nym form an unlikely alliance as they join together against an unexpected assault on the peaceful planet.
– Stars Wars The Clone Wars : Republic Heroes
Star Wars The Clone Wars: Republic Heroes lets Star Wars fans young and old live out the sweeping galactic adventures of the Clone Wars. For the first time ever, players can fight as their favorite Jedi and Clone Troopers from the preeminent animated television series – from familiar faces like Anakin Skywalker to new heroes like Clone Captain Rex. A brand-new storyline, which bridges the gap between season one and two, takes the player on a multi-faceted adventure to stop a mysterious techno assassin's destructive plot. Built around two-player cooperative action, the accessible controls and family-friendly gameplay bring Star Wars fans across generations together like never before to fight the evil Separatists and restore peace to the galaxy.
– Stars Wars The Force Unleashed : Ultimate Sith Edition
The story and action of Star Wars®: The Force Unleashed™ expands with the release of Star Wars The Force Unleashed: Ultimate Sith Edition, a special new version of the game that will show gamers the deepest, darkest side of the Force in a story that puts them on a collision course with Luke Skywalker himself. The Ultimate Sith Edition includes all of the original missions found in Star Wars: The Force Unleashed as well as content previously only available via download and an all-new exclusive bonus level.
Star Wars: The Force Unleashed completely re-imagines the scope and scale of the Force and casts players as Darth Vader's "Secret Apprentice," unveiling new revelations about the Star Wars galaxy seen through the eyes of a mysterious new character armed with unprecedented powers.
– Stars Wars The Force Unleashed II
The Star Wars® Saga continues with Star Wars®: The Force Unleashed™ II, the highly anticipated sequel to the fastest-selling Star Wars game ever created. In Star Wars: The Force Unleashed, the world was introduced to Darth Vader's now fugitive apprentice, Starkiller—the unlikely hero who would ignite the flames of rebellion in a galaxy so desperately in need of a champion.
In the sequel, Starkiller returns with over-the-top Force powers and embarks on a journey to discover his own identity and to reunite with his one true love, Juno Eclipse. In Star Wars: The Force Unleashed II, Starkiller is once again the pawn of Darth Vader—but instead of training his protégé as a ruthless assassin, the dark lord is attempting to clone his former apprentice in an attempt to create the Ultimate Sith warrior. The chase is on – Starkiller is in pursuit of Juno and Darth Vader is hunting for Starkiller.
With all-new devastating Force powers and the ability to dual-wield lightsabers, Starkiller cuts a swath through deadly new enemies across exciting worlds from the Star Wars films – all in his desperate search for answers to his past.
– Stars Wars : Dark Forces
Behind a veil of secrecy the evil Empire is creating a doomsday army – one that, if finished, will become the final cog in the Empire's arsenal of terror and domination.
Your Mission? Join the Rebel Alliance's covert operations division, infiltrate the Empire, then battle every man and machine the Imperial Forces can muster. Search a vast galaxy for clues, attack enemy bases-all in a desperate attempt to stop the activation of this fearsome new weapon.
– Stars Wars : Knights of the Old Republic
Choose Your Path.
It is four thousand years before the Galactic Empire and hundreds of Jedi Knights have fallen in battle against the ruthless Sith. You are the last hope of the Jedi Order. Can you master the awesome power of the Force on your quest to save the Republic? Or will you fall to the lure of the dark side? Hero or villain, saviour or conqueror… you alone will determine the destiny of the entire galaxy!
– Stars Wars Empire at War : Gold Pack
Command or corrupt an entire galaxy in the definitive Star Wars strategy collection. It is a time of galactic civil war. Will you take up the reins of the Rebellion, assume control of the Empire, or rule the Star Wars Underworld?
– Stars Wars : Knights of the Old Republic II
Five years after the events from the award winning Star Wars® Knights of the Old Republic™, the Sith Lords have hunted the Jedi to the edge of extinction and are on the verge of crushing the Old Republic. With the Jedi Order in ruin, the Republic's only hope is a lone Jedi struggling to reconnect with the Force. As this Jedi, you will be faced with the galaxy's most dire decision: Follow the light side or succumb to the dark…
Star Wars Battlefront II
– Enhanced Single-Player Experience – Join the rise of Darth Vader's elite 501st Legion of Stormtroopers as you fight through an all new story-based saga where every action you take impacts the battlefront and, ultimately, the fate of the Star Wars galaxy.
All New Classic Trilogy Locations – Fight inside the corridors of the second Death Star, in the marshy swamps of Dagobah, and even aboard the Tantive IV, Princess Leia's Blockade Runner, as seen at the beginning of Star Wars Episode IV: A New Hope.
– More Classes and Vehicles – Now choose from six distinct soldier classes, plus bonus hero characters for each of the four factions: Rebels, Imperials, CIS and the Republic. Then jump into more than 30 diverse ground and space vehicles, including the clone BARC speeder, AT-RT and new Jedi Starfighter and ARC 170.
– PLUS Improved Online Features – Engage in massive online battles with multiplayer action for up to 64 players. Play five different online game modes including Conquest, Assault, one-and two-flag Capture the Flag, and Hunt.
Now for the first time, Star Wars Battlefront II lets you
– Fight as a Jedi – Earn the ability to wield a lightsaber and use Force powers like Yoda, Darth Vader and many other heroes and villains.
– Battle in Space – Dogfight in X-wings, TIE fighters, Jedi starfighters and other classic starcraft, or land your ship on a star destroyer and fight it out on foot aboard enemy ships.
– Play 16 New Locations – Battle across Star Wars: Episode III environments such as Utapau, Mustafar and the epic space battle above Coruscant.
Stars Wars Jedi Knight II : Jedi Outcast
– As Kyle Katarn, agent of the New Republic, use your Lightsaber and the full power of the Force to combat a new evil plaguing the galaxy.
– Wield over 8 Force abilities including the Jedi Mind Trick, Force Lightning and Force Grip.
– Choose wisely from an arsenal of 13 weapons including disruptor rifle, thermal detonators, trip mines and Wookiee bowcaster.
– Play on-line with 2-32 players or against a variety of AI Bots – and gain an additional 7 Force powers.
– Test your skills in 24 single-player missions and in 6 different types of multiplayer games including Jedi Master, Holocron, Capture the Ysalamiri, Duel, Deathmatch and Capture the Flag.
– Interact with legendary Star Wars characters such as Luke Skywalker and Lando Calrissian (featuring the voice of Billy Dee Williams as Lando.)
– Developed by critically acclaimed Raven Studios and powered by the Quake III Arena engine.
Star Wars Jedi Knight : Dark Forces II
– Single or multiplayer gameplay over modem, network or Internet. 9 multiplayer levels
– All new realistic 3D environments with animated 3D characters in 21 heart-stopping levels
– Encounter seven dark jedi, each possessing unique powers
– Compatible with many 3D graphics cards
– Intense Star Wars action in an all-new story fraught with danger and adventure – do you take the quick and easy path as Darth Vader did or do you take the patient route to Jedi Knighthood?
If you choose the light side:
– Train to become a Jedi Knight – master the elegant Lightsaber and learn four special apprentice abilities
– Use exclusive light side powers: healing, persuasion (for the weak-minded), blinding and absorption
Or be tempted by the dark side:
– Use your Jedi Knight training and apprentice abilities to become an agent of evil
– Use exclusive dark side powers: the grip (used if there's a disturbing lack of faith), Force throw, energy bolts and destruction
Stars Wars Jedi Knight : Jedi Academy
– Customize your character by defining both look and gender before entering the Academy to learn the power-and dangers- of the Force.
– Construct your own Lightsaber from handle to blade. As you progress, discover the power of wiedling two Lightsabers or the ultimate double-bladed Lightsaber made famous by Darth Maul.
– New vehicles, weapons, force powers and Star Wars locations.
– Unique level selection system allows you to choose your own missions and adventures.
– Six multiplayer modes including team based siege mode and two-on-one power duel. Fight in 23 multiplayer arenas!
Stars Wars Jedi Knight : Mysteries of the Sith
– Bring a Whole new game experience to Jedi Knight. Jam-packed features make Mysteries of the Sith a must-have for Jedi Knight fans
– New playable character, Mara Jade, introduced first in Timothy Zahn's award-winning Star Wars novel, Heir to the Empire
– 14 new levels, 13 total locations, including wampa-infested swamps, the foreboding fortress of Ka'Pa the Hutt, and the subterranean catacombs of a temple deep within the planet Drommund Kaas
– 4 new weapons, including a carbonite gun, repeating blaster cannon, and sniper scope
– 5 new Force powers, featuring Force Push, Saber Throw, and Force Projection
– Over 2 dozen new enemies – gladiator, assassin and torture droids, pirate raiders, creatures of the Sith, and a menacing rancor
– 3 new multiplayer personalities, with distinct characteristics, weapons and inventory
Plus these new game advances:
– Cameras that let you monitor where you are in the heat of battle
– Enhanced lighting features, including colored lighting support
– A new multiplayer game, Kill the Fool with the Ysalamiri
Choose wisely and May the Force Be With You.
Stars Wars Republic Commando
– Innovative Squad Control System – With intuitive and smart squad commands, the simple touch of one button easily controls your squad to perform complex commands and strategic maneuvers.
– Multiple Gaming Mode – Choose the single-player option and command a squad of four that you can dispatch at will. Or, choose the multiplayer option and play with up to sixteen players online in different multi-player modes.
– Prelude to Episode III – Encounter new vehicles, locations and enemies from the upcoming film.
Stars Wars Starfighter
– Pilot three unique starfighters: the sleek Naboo starfighter, nimble Guardian Mantis and lethal Havoc.
– Engage in over 14 challenging missions to save Naboo: deep space dogfights, attack runs, escort missions, and more.
– Vast environments take you deep into Star Wars worlds: from enormous open plains of Naboo to the furthest reaches of space to the interior corridors of the Droid Control Ship.
Stars Wars The Clone Wars : Republic Heroes
– Play as your favorite Jedi heroes including Anakin Skywalker, Obi-Wan Kenobi, Ahsoka Tano, Mace Windu, and Kit Fisto
– Slice and dice your way through Separatist droids with your Lightsaber and Force powers and use your agility to perform amazing leaps and navigate levels filled with interactivity
– Turn your enemies into weapons as you commandeer droids and use their unique abilities to blast enemies and solve puzzles as a Jedi
– Compete against a friend with in-level challenges for rewards and points to be spent to upgrade your character and unlock bonus items
Stars Wars The Force Unleashed : Ultimate Sith Edition
– Includes the original Star Wars The Force Unleashed game plus 3 re-imagined Classic Trilogy levels: Tatooine, Jedi Temple and ALL-NEW-Hoth level
– UNLEASH EPIC FORCE POWERS and devastating combos
– DISCOVER THE UNTOLD STORY of Darth Vader's secret apprentice set between Episodes III and IV
– LIFE-LIKE REACTIONS from characters and environments that are different every time you play
Stars Wars The Force Unleashed II
Continue the galaxy-altering journey of Starkiller, Darth Vader's fugitive apprentice, that shapes the key events between Star Wars: Episode III and Episode IV.
Unleash the Force with more power and precision through improved controls and new powers, such as the deceptive Mind Trick, which turns enemies against their allies.
Discover the true power of Starkiller with Force Fury, where his attacks and Force powers are exponentially increased.
Improved targeting system enhances precision use of Force powers and greater interaction with puzzles and the environment.
Take combat to the next level with the ability to wield dual lightsabers and punish enemies with all-new combo attacks.
Experience the most life-like interactions with Pixelux Entertainment's Digital Molecular Matter (DMM) coupled with euphoria from Natural Motion Ltd and the powerful Havok Physics system.
Expanded customization options such as new costumes and power-enhancing lightsaber crystals.
Fight through all-new challenge levels designed to test and hone your fighting and Force power skills.
Skillfully manage your combat techniques to defeat a variety of brand-new enemies, which will culminate in epic boss battles.
Immerse yourself once again in the story that was honored with awards from the Writer's Guild of America and the Academy of Interactive Arts and Sciences.
Stars Wars : Dark Forces
– Fully interactive environments – morphing walls and floors, moving platforms, and conveyors, realistic lighting and atmospheric effects.
– First-person ground combat. Call on 10 weapons to fight twenty types of enemies.
– Explore the virtual Star Wars universe up close and personal.
– Climb catwalks, look and shoot up and down, jump off ledges, wade through garbage.
Stars Wars : Knights of the Old Republic
– A brand new Star Wars role-playing experience with unique characters, creatures, vehicles and planets.
– Learn to use the Force with over 40 different powers and build your own lightsaber.
– Adventure through some of the most popular Star Wars locations, including Tatooine and the Wookiee homeworld Kashyyyk.
– Choose your party from nine customisable characters, including Twi'leks, droids and Wookiees.
– Travel to eight enormous worlds in your own starship, the Ebon Hawk.
Stars Wars Empire at War : Gold Pack
– Conquer or liberate over 80 ground and space locations including Kashyyyk, Tatooine and Dagobah – each with its own strategic advantage.
– Command iconic Star Wars characters such as Obi-Wan Kenobi, Luke Skywalker, Darth Vader and Boba Fett.
– Pit X-wings against TIE fighters or command an entire fleet of Star Destroyers in space. Then send down land forces to secure the planet below.
– All new units and planets: Command over 28 new underworld units as well as new Rebel and Imperial forces and heroes on 13 new planets.
– Expanded Multiplayer: Experience all out, three-faction battles and now play the same side against itself with mirror play.
Stars Wars : Knights of the Old Republic II
– Follow up to the acclaimed and original Star Wars® Knights of the Old Republic™.
– Choose from three different classes of Jedi, each with access to specific Jedi abilities.
– Choose the light or the dark side of the Force as you progress through the story.
– The choices you make will affect your character, those in your party and those who may join you in your quest.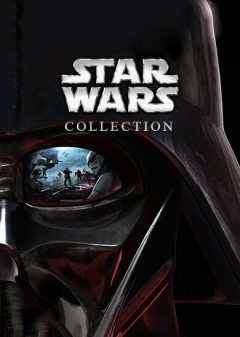 Informations
| | |
| --- | --- |
| Publisher: | Disney |
| Studio: | LucasArts |
| Label: | LucasArts |
| Platform: | PC |
Minimum Requirements
| | |
| --- | --- |
| Graphic: | NVIDIA GeForce 8600 GT 256 MB |
| Graphic: | ATI Radeon HD 2600 256 MB |
| Other: | Controller available |
| OS: | Windows 7 |
| OS: | Windows Vista SP2 |
| OS: | Windows XP SP3 |
| CPU: | AMD Athlon X2 5200+ |
| CPU: | Intel Core 2 Duo 2.4GHz |
| Memory: | 2GB |
| Sound: | DirectX 9.0c |
Recommended Requirements
| | |
| --- | --- |
| Other: | Controller available |
| Graphic: | ATI Radeon HD 4800 256 MB |
| Graphic: | NVIDIA GeForce GTX 260 256 MB |
| OS: | Windows XP SP3 |
| OS: | Windows 7 |
| OS: | Windows Vista SP2 |
| CPU: | AMD Athlon X2 6000+ |
| CPU: | Intel Core 2 Duo 2.8GHz |
| Sound: | DirectX 9.0c |
| Memory: | 2GB |
Ratings
RATING SYSTEM: PEGI
16
Violence
RATING SYSTEM: ESRB
TEEN
VIOLENCE
RATING SYSTEM: USK
16