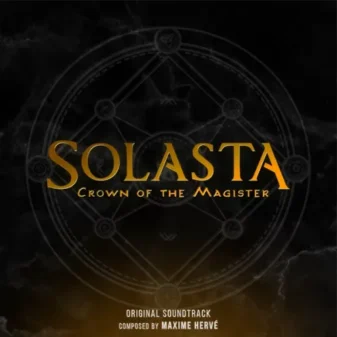 SOLASTA: CROWN OF THE MAGISTER – ORIGINAL SOUNDTRACK
Genre:
Languages:
French Canadian and English, German, Russian, Portuguese-Brazil, Simplified Chinese
The Original Solasta Soundtrack composed Maxime Hervé, this DLC contains 23 tracks (MP3/FLAC) from the game. Maxime Hervé is a talented young composer who has worked on several high profile projects including Space Hulk: Tactics, Shadow of the Tomb Raider, Resident Evil 7, and Love Death & Robots.
Solasta's game soundtrack is an orchestral score which embraces the fantastic genre and invites the listener to follow the journey of four heroes. From majestic and graceful melodies to heavy battle themes, it is composed with the intention of being part of the heart of the Solasta's world. The music sometimes takes a stranger and minimalistic approach, giving space to unexpected darker tones.
TRACK LISTING
1. World of Light 1:32
2. Heroes of Solasta 3:26
3. High Adventure 3:09
4. Prison Escape 2:12
5. Hour of the Wolf 2:19
6. The Lightbringers 1:58
7. Shadows 2:36
8. Caer Cyflen 2:16
9. Ruins of Telema 4:47
10. Clashing Swords 2:34
11. The Crown 1:55
12. The Necromancer 3:05
13. Coparann 2:56
14. Master's Tower 2:52
15. Ambush in the Dark 2:47
16. The Legacy Council 2:10
17. The Battle of the Rift 2:17
18. The Cradle of Fire 3:10
19. Warcry 2:50
20. Master Mind 2:57
21. Children of Darkness 2:56
22. Aer Elai 4:07
23. The Last Stand 3:28
CREDITS
ARTIST: Various Artists
COMPOSER: Maxime Hervé
LABEL: G4F Records
OTHER CREDITS: Tactical Adventures
© 2021 Tactical Adventures. All Rights Reserved. All content is the property of Tactical Adventures protected under copyright or trademark laws. "Solasta", "Solasta: Crown of the Magister" & "Tactical Adventures" are trademarks of Tactical Adventures.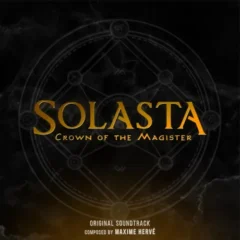 SOLASTA: CROWN OF THE MAGISTER – ORIGINAL SOUNDTRACK
Informations
| | |
| --- | --- |
| Publisher: | Tactical Adventures |
| Studio: | Tactical Adventures |
| Label: | Tactical Adventures |
| Platform: | PC |
Minimum Requirements
| | |
| --- | --- |
| OS: | Windows 7 / 8.1 / 10 |
| Processor: | AMD FX 4300 / Intel Core i5-3570K |
| Memory: | 8 GB RAM |
| Graphics: | Radeon R9 285 / GeForce GTX 950 |
| DirectX: | Version 11 |
| Storage: | 30 GB available space |
| Sound Card: | DirectX compatible sound card |
Recommended Requirements
| | |
| --- | --- |
| OS: | Windows 10 |
| Processor: | AMD Ryzen 3 1300X / Intel Core i5-7400 |
| Memory: | 8 GB RAM |
| Graphics: | Radeon RX 590 / GeForce GTX 1060 |
| DirectX: | Version 11 |
| Storage: | 40 GB available space |
| Sound Card: | DirectX compatible sound card |