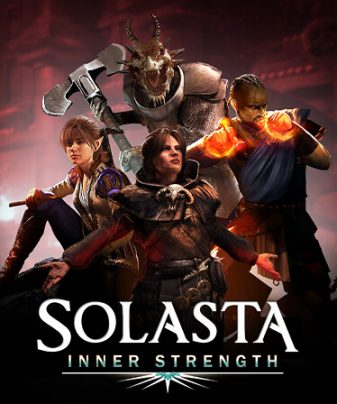 Complete your roster with the Inner Strength DLC!
Buying this DLC unlocks three new Classes (for a total of 9 new subclasses, plus 3 additional ones if you own Lost Valley) and one new Ancestry
– The Warlock Class, with its 4 subclasses: The Fiend (SRD), The Hive (Solasta), The Timekeeper (Community), The Tree (Lost Valley)
– The Bard Class, with its 4 subclasses: College of Lore (SRD), College of Hope (Solasta), College of Heroism (Community), College of Tradition (Lost Valley)
– The Monk Class, with its 4 subclasses: Way of the Open Hand (SRD), Way of Survival (Solasta), Way of Light (Community), Way of Freedom (Lost Valley)
– The Dragonborn Ancestry
With the release of Inner Strength, every player also gets the following content for free!
– Three new Backgrounds: The Ascetic, The Artist & The Occultist (note: these new backgrounds do not have a background quest in the Crown of the Magister campaign)
– 17 new feats to give our martial classes some more love!
– Gamepad support on PC is finally here <3 - Boss monsters have now been activated in the Dungeon Creator! Use them at your own risk and peril!
© 2022 Tactical Adventures. All Rights Reserved. All content is the property of Tactical Adventures protected under copyright or trademark laws. "Solasta", "Solasta: Crown of the Magister" & "Tactical Adventures" are trademarks of Tactical Adventures.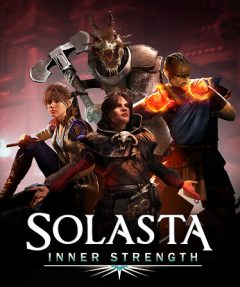 SOLASTA: CROWN OF THE MAGISTER – INNER STRENGTH
Informations
| | |
| --- | --- |
| Publisher: | Tactical Adventures |
| Studio: | Tactical Adventures |
| Label: | Tactical Adventures |
| Platform: | PC/Mac |
Minimum Requirements
| | |
| --- | --- |
| Windows: | |
| Requires a 64-bit processor and operating system | |
| OS: | Windows 7 / 8.1 / 10 |
| Processor: | AMD FX 4300 / Intel Core i5-3570K |
| Memory: | 8 GB RAM |
| Graphics: | Radeon R9 285 / GeForce GTX 950 |
| DirectX: | Version 11 |
| Storage: | 15 GB available space |
| Sound Card: | DirectX compatible sound card |
| macOS: | |
| Requires a 64-bit processor and operating system | |
| Processor: | Apple A11 |
| Graphics: | External GPU |
Recommended Requirements
| | |
| --- | --- |
| Windows: | |
| Requires a 64-bit processor and operating system | |
| OS: | Windows 10 |
| Processor: | AMD Ryzen 3 1300X / Intel Core i5-7400 |
| Memory: | 8 GB RAM |
| Graphics: | Radeon RX 590 / GeForce GTX 1060 |
| DirectX: | Version 11 |
| Storage: | 15 GB available space |
| Sound Card: | DirectX compatible sound card |
| macOS: | |
| Requires a 64-bit processor and operating system | |
| Processor: | Apple A11 |
| Graphics: | External GPU |