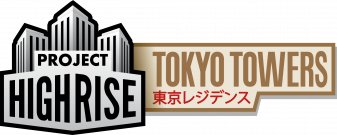 PROJECT HIGHRISE: TOKYO TOWERS
Genre:
Languages:
French Canadian and English, German, Italian, Polish, Russian, Spanish – Spain
Welcome to Tokyo, a gleaming beacon of modernity and the pulsing heart of the Land of the Rising Sun. Finding a place to call home is a constant challenge in the most populous city on Earth. In the Tokyo Towers content pack, you'll build residential towers full of apartments that cater to those seeking an urban oasis of calm amid the carefully choreographed chaos of Japan's capital. Your towers will sprout balconies and terraces to provide a serene views of the city's skyline far above the traffic filled streets.
With new apartments, you'll have many new choices as you seek to master the complicated, crowded (and expensive) world of Tokyo's vibrant residential market. Ranging from smartly designed micro apartments to palatial penthouses, you'll be able to design a quintessentially Tokyo residential block complete with matching exteriors and cityscapes inspired by Japan's unique urban landscape.
Tokyo has always been a forward-looking metropolis on the cutting edge of art and design. From fountains and gardens to prints and statues, the content pack also features an array of new artwork to improve your building's prestige and complete your truly Tokyo tower.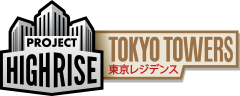 PROJECT HIGHRISE: TOKYO TOWERS
Informations
| | |
| --- | --- |
| Publisher: | Kasedo Games |
| Studio: | SomaSim |
| Label: | Kalypso Media Digital |
| Platform: | PC |
Minimum Requirements
| | |
| --- | --- |
| *Windows* | |
| OS: | Windows 7 or later |
| Processor: | Core i5 |
| Memory: | 2 GB RAM |
| Graphics: | Integrated video (Intel HD 4000 or later), 1 GB shared memory |
| Storage: | 500 MB available space |
| Additional Notes: | Display |
| *Mac* | |
| OS: | OS X 10.11 or later |
| Processor: | Core i5 |
| Memory: | 2 GB RAM |
| Graphics: | Integrated video (Intel HD 4000 or later), 1 GB shared memory |
| Storage: | 500 MB available space |
| Additional Notes: | Display |
Recommended Requirements
| | |
| --- | --- |
| *Windows* | |
| OS: | Windows 7 or later |
| Processor: | Core i7 |
| Memory: | 4 GB RAM |
| Graphics: | Dedicated video, 1 GB VRAM |
| Additional Notes: | Display |
| *Mac* | |
| OS: | OS X 10.11 or later |
| Processor: | Core i7 |
| Memory: | 4 GB RAM |
| Graphics: | Dedicated video, 1 GB VRAM |
| Additional Notes: | Display |