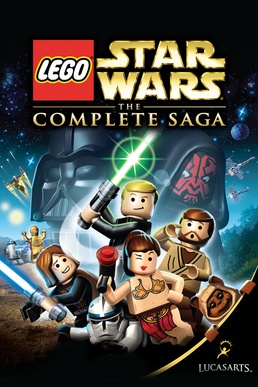 LEGO STAR WARS : THE COMPLETE SAGA
Genre:
Languages:
French Canadian and English, German, Italian, Spanish – Latin America
Kick Some Brick in I through VI
Play through all six Star Wars movies in one videogame! Adding new characters, new levels, new features and for the first time ever, the chance to build and battle your way through a fun Star Wars galaxy!
– New Gameplay Features with enhanced Force Powers, new power-ups and new Challenge Modes.
– Solve Puzzles through the use of creative thinking, teamwork and unique building situations.
– Over 120 playable characters, and new characters like Watto, Zam Wessell, Boss Nass and more!
– Upgraded Character Customizer allowing millions of possibilities. With character parts from all 6 movies, create cross-Trilogy mash-up characters like Han Windu and Lando Amidala.
– Redesigned levels like the "Mos Espa Podrace" and "Gunship Cavalry" to take advantage of the the open vehicle gameplay of LEGO Star Wars II.
– Bonus levels and missions allow you to take 10 additional Bounty Hunter missions from Jabba the Hutt in the prequel trilogy.
– Two Player Local Co-Op lets friends and families play together.
LucasArts, the LucasArts logo, STAR WARS and related properties are trademarks in the United States and/or in other countries of Lucasfilm Ltd. and/or its affiliates. © 2005-2009 Lucasfilm Entertainment Company Ltd. or Lucasfilm Ltd. All rights reserved. LEGO, the LEGO logo and the Minifigure are trademarks of The LEGO Group. © 2005-2009 The LEGO Group. All rights reserved.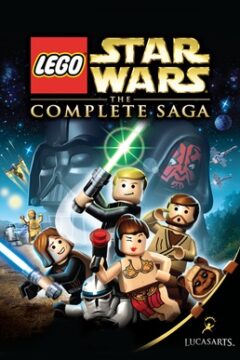 LEGO STAR WARS : THE COMPLETE SAGA
Informations
| | |
| --- | --- |
| Publisher: | Disney |
| Studio: | TT Games |
| Label: | LucasArts |
| Platform: | PC |
Minimum Requirements
| | |
| --- | --- |
| Graphic: | 128 MB |
| OS: | Windows Vista |
| OS: | Windows XP SP2 |
| CPU: | AMD Athlon XP 1GHz |
| CPU: | Intel P3 1GHz |
| Memory: | 0.512GB |
| Memory: | 0.256GB |
| Storage: | 5GB |
Ratings
RATING SYSTEM: PEGI
3
RATING SYSTEM: ACB
PG (Parental Guidance)
RATING SYSTEM: ESRB
CARTOON VIOLENCE
EVERYONE 10+
RATING SYSTEM: USK
6