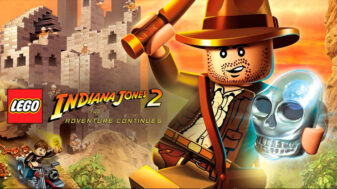 LEGO INDIANA JONES 2 : THE ADVENTURE CONTINUES
Genre:
LEGO® Indy is back in his biggest adventure yet. Battle through all four movies, including all-new levels from the original adventures and your favorite new moments from The Kingdom of the Crystal Skull… or in true LEGO® fashion, get creative and build your own levels to play with friends!
– New modes including two-player drop-in, drop-out split-screen gameplay lets you play together with your friends and family like never before
– For the first time, create your own levels and play them with friends!
– New vehicles, characters and abilities in the biggest LEGO environments ever!
– Use a variety of weapons from the environment to fight enemies (e.g., chairs, guns, swords, bottles)
– Collect artifacts through the game to unlock more than 60 playable characters, including villains and supporting characters (Marion Ravenwood, Mutt Williams, Short Round, Rene Belloq, Willie Scott, Marcus Brody, Dr. Henry Jones Sr. and Irina Spalko)
– A complete retelling of Indy's three original adventures from the first game, for a whole new experience!
– Includes all your favorite moments from The Kingdom of the Crystal Skull
LucasArts, the LucasArts logo, INDIANA JONES and related properties are trademarks in the United States and/or in other countries of Lucasfilm Ltd. and/or its affiliates. © 2008-2010 Lucasfilm Entertainment Company Ltd. or Lucasfilm Ltd. All rights reserved. LEGO, the LEGO logo, the Brick and Knob configurations and the Minifigure are trademarks of the LEGO Group. © 2008-2010 The LEGO Group. All rights reserved.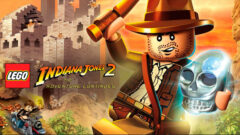 LEGO INDIANA JONES 2 : THE ADVENTURE CONTINUES
Informations
| | |
| --- | --- |
| Publisher: | Disney |
| Studio: | TT Games |
| Label: | LucasArts |
| Platform: | PC |
Minimum Requirements
| | |
| --- | --- |
| Graphic: | Nvidia FX5800 256 MB |
| Graphic: | ATI X1300 256 MB |
| OS: | Windows XP |
| OS: | Windows Vista |
| CPU: | Intel P4 1.8GHz |
| CPU: | AMD Athlon XP 2200+ 1.8GHz |
| Memory: | 0.512GB |
| Memory: | 0.256GB |
| Storage: | 5GB |
Ratings
RATING SYSTEM: ACB
G (General)
RATING SYSTEM: ESRB
CARTOON VIOLENCE
EVERYONE 10+
RATING SYSTEM: PEGI
7
Violence
RATING SYSTEM: USK
12