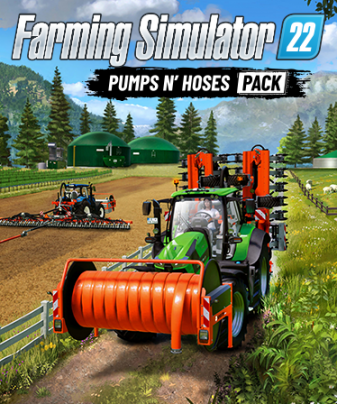 FARMING SIMULATOR 22 – PUMPS N' HOSES PACK (GIANTS)
Platform GIANTS Software Keys
Genre:
Languages:
Czech, Danish, Dutch, French Canadian and English, Finnish, German, Hungarian, Italian, Japanese, Korean, Norwegian, Polish, Portuguese-Brazil, Romanian, Russian, Spanish – Latin America, Swedish, Turkish, Traditional Chinese, Spanish Mexico, Simplified Chinese
Pump it up and upgrade your farming operation with umbilical systems, manure separation and configurable biogas plants! A huge variety of new machines, tools and buildings extend the infrastructure of manure distribution and resource storage on your farm.
Overall, more than 30 items from Dutch manufacturer SCHOUTEN, German steel storage specialist Stallkamp and biogas technology manufacturer BVL are included to introduce new gameplay features to Farming Simulator 22.
Manure & Slurry Distribution Systems
Implement umbilical systems on your farm! By attaching draggable hoses in different lengths and ultra-light drag hose injectors instead of heavy manure tanks to your tractor, you protect the soil and fertilize your fields – with the convenience and high capacities of mobile pumping units like pump wagons and pump trailers stationed nearby. Combine hoses, if needed, that span hundreds of meters to cover your fields for efficient fertilization. And don't forget to improve pumping conditions with additional water tanks and compressors!
Manure Separation
Liquid manure separators allow you to separate liquid and solid fractions of manure for a more versatile application of your resources. Multiple stationary and mobile separators are available. Choose, if you want to use the dry fraction of manure for animal bedding on your dairy farm, sell it for a profit or fertilize your fields with it just like you do with its liquid counterpart. Make more of your manure!
Biogas Plant Configuration
Upgrade your biogas plant by configuring it according to your needs and preferences: Various modules can be dynamically placed around and attached to the root facility of your biogas plant to customize it. You decide where to build reception areas, fermentation tanks, gas holders, power plants to produce electricity and other components in various sizes – including a gas torch to burn excess gasses of your high-performing biogas plant.
© 2022 Published by GIANTS Software GmbH. Developed by Creative Mesh UG. Farming Simulator, GIANTS Software and its logos are trademarks or registered trademarks of GIANTS Software GmbH. All manufacturers, agricultural machinery, agricultural equipment, names, brands and associated imagery featured in this game in some cases include trademarks and/or copyrighted materials of their respective owners. The agricultural machines and equipment in this game may be different from the actual machines in shapes, colours and performance. All other names, trademarks and logos are property of their respective owners. All rights reserved.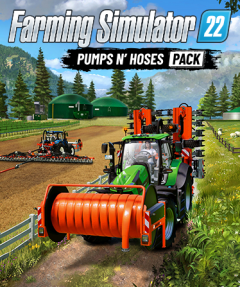 FARMING SIMULATOR 22 – PUMPS N' HOSES PACK (GIANTS)
Informations
| | |
| --- | --- |
| Publisher: | GIANTS Software GmbH |
| Studio: | Creative Mesh |
| Label: | GIANTS Software |
| Platform: | PC |
Minimum Requirements
| | |
| --- | --- |
| Windows: | |
| OS: | Windows 10 Home (x64) |
| Processor: | Intel Core i5-3330 / AMD FX-8350 or equivalent |
| Memory: | 8 MB RAM |
| Graphics: | GeForce GTX 660 (2 GB) / Radeon R9 390X (8 GB) |
| Storage: | 7 MB available space |
| Sound Card: | Sound card |
| Additional Notes: | These system requirements can´t cover all possible system configurations so issues could occur that influence the functionality in some cases. |
| macOS: | |
| OS: | 10.14 or newer |
| Processor: | Intel Core i5-3330 or AMD FX-8320 or better |
| Memory: | 8 MB RAM |
| Graphics: | GeForce GTX 660, AMD Radeon R7 265 or better (min 2GB VRAM, DX11/DX12 support) |
| Storage: | 7 MB available space |
| Sound Card: | Sound Card |
| Additional Notes: | These system requirements can´t cover all possible system configurations so issues could occur that influence the functionality in some cases. |
Recommended Requirements
| | |
| --- | --- |
| Windows: | |
| OS: | Windows 10 Home (x64) |
| Processor: | Intel Core i5-5675C / AMD Ryzen 5 1600 or equivalent |
| Memory: | 8 MB RAM |
| Graphics: | GeForce GT 1060 (6 GB) / Radeon RX 570 (8 GB) |
| Storage: | 7 MB available space |
| Sound Card: | Sound card |
| Additional Notes: | These system requirements can´t cover all possible system configurations so issues could occur that influence the functionality in some cases. |
| macOS: | |
| OS: | 10.14 or newer |
| Processor: | Intel Core i5-5675C or AMD Ryzen 5 1600 or better |
| Memory: | 8 MB RAM |
| Graphics: | GeForce GTX 1060 or Radeon RX 570 or better (min 6GB VRAM) |
| Storage: | 7 MB available space |
| Sound Card: | Sound Card |
| Additional Notes: | These system requirements can´t cover all possible system configurations so issues could occur that influence the functionality in some cases. |
Ratings
RATING SYSTEM: PEGI (Europe)
3