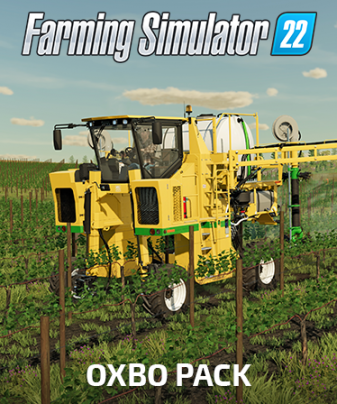 FARMING SIMULATOR 22 – OXBO PACK (STEAM) – PRE ORDER
Genre:
Languages:
Czech, Danish, Dutch, English (US), Finnish, French Canadian and English, German, Hungarian, Italian, Japanese, Korean, Norwegian, Polish, Portuguese-Brazil, Romanian, Russian, Spanish – Spain, Swedish, Turkish, Traditional Chinese, Simplified Chinese, Spanish – Latin America
Optimize Farming With The Oxbo Pack!
Are you in the market for some specialty harvesting and application technology? With the official Oxbo Pack, you upgrade your fleet of machinery with high-tech equipment by the internationally renowned manufacturer.
With the Oxbo 6030 multi-function grape harvester, you get a versatile machine with configurable harvester and sprayer attachments.
The three-wheeled and sharp-turning Oxbo AT4103 applicator for manure and slurry application offers highly maneuverable steering.
Need even higher capacity? The Oxbo AT5105 also comes with a powered front wheel and steerable rear axles and an even bigger tank.
From the pioneers of the triple merger concept, comes the Oxbo 2340 forage merger with a 12 meter working width for increased productivity of forage production.
Machines included in the Oxbo Pack
Oxbo 6030 – Harvester configuration
Oxbo 6030 – Sprayer configuration
Oxbo AT5105 – LNMS configuration
Oxbo AT5105 – DNMS configuration
Oxbo AT4103 – LNMS configuration
Oxbo AT4103 – DNMS configuration
Oxbo 2340
© 2021 GIANTS Software GmbH. Published and developed by GIANTS Software. Farming Simulator, GIANTS Software and its logos are trademarks or registered trademarks of GIANTS Software. All rights reserved. All manufacturers, agricultural machinery, agricultural equipment, names, brands and associated imagery featured in this game in some cases include trademarks and/or copyrighted materials of their respective owners. The agricultural machines and equipment in this game may be different from the actual machines in shapes, colours and performance. All other names, trademarks and logos are property of their respective owners.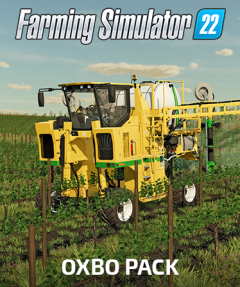 FARMING SIMULATOR 22 – OXBO PACK (STEAM) – PRE ORDER
Informations
| | |
| --- | --- |
| Publisher: | GIANTS Software GmbH |
| Studio: | Giants Software |
| Label: | GIANTS Software |
| Platform: | Mac/PC |
Minimum Requirements
| | |
| --- | --- |
| Windows | |
| OS: | Windows 10 Home (x64) |
| Processor: | Intel Core i5-3330 or AMD FX-8320 or better |
| Memory: | 8 GB RAM |
| Graphics: | GeForce GTX 660 or AMD Radeon R7 265 or better (min 2GB VRAM) |
| DirectX: | Version 11 |
| Network: | Broadband Internet connection |
| Storage: | 7 GB available space |
| Sound Card: | Sound card |
| Additional Notes: | These system requirements can´t cover all possible system configurations so issues could occur that avoid or influence the functionality in some cases. |
| macOS | |
| OS: | 10.14 or newer |
| Processor: | Intel Core i5-3330 or AMD FX-8320 or better |
| Memory: | 8 GB RAM |
| Graphics: | GeForce GTX 660, AMD Radeon R7 265 or better (min 2GB VRAM, DX11/DX12 support) |
| Network: | Broadband Internet connection |
| Storage: | 7 GB available space |
| Sound Card: | Sound Card |
| Additional Notes: | These system requirements can´t cover all possible system configurations so issues could occur that avoid or influence the functionality in some cases. |
Recommended Requirements
| | |
| --- | --- |
| Windows | |
| OS: | Windows 10 Home (x64) |
| Processor: | Intel Core i5-5675C or AMD Ryzen 5 1600 or better |
| Memory: | 8 GB RAM |
| Graphics: | GeForce GTX 1060 or Radeon RX 570 or better (min 6GB VRAM) |
| DirectX: | Version 11 |
| Network: | Broadband Internet connection |
| Storage: | 7 GB available space |
| Sound Card: | Sound card |
| Additional Notes: | These system requirements can´t cover all possible system configurations so issues could occur that influence the functionality in some cases. |
| macOS | |
| OS: | 10.14 or newer |
| Processor: | Intel Core i5-5675C or AMD Ryzen 5 1600 or better |
| Memory: | 8 GB RAM |
| Graphics: | GeForce GTX 1060 or Radeon RX 570 or better (min 6GB VRAM) |
| Network: | Broadband Internet connection |
| Storage: | 7 GB available space |
| Sound Card: | Sound Card |
| Additional Notes: | These system requirements can´t cover all possible system configurations so issues could occur that influence the functionality in some cases. |
Ratings
RATING SYSTEM: PEGI (Europe)
3