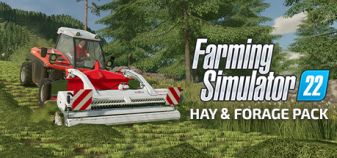 FARMING SIMULATOR 22 – HAY & FORAGE PACK (GIANTS)
Platform GIANTS Software Keys
Genre:
Languages:
Czech, Danish, Dutch, French Canadian and English, Finnish, German, Hungarian, Italian, Japanese, Korean, Norwegian, Polish, Portuguese-Brazil, Romanian, Russian, Spanish – Spain, Swedish, Turkish, Traditional Chinese, Simplified Chinese, Spanish – Latin America
Rule the fields, mountains, and steep hills with 17 specialized machines to maximize your hay and forage resources! With the Hay & Forage Pack, GIANTS Software adds three new brands, and a variety of vehicles and tools from even more renowned manufacturers. Each machine makes your farming-life easier and more fun when operating on vast grasslands or difficult green areas embedded in the landscape surrounding your farm.
Highlights of the Hay & Forage Pack
Enjoy new brands: Brielmaier, REFORM & Reiter join Farming Simulator 22
Use authentically recreated machines from a total of seven agricultural brands
KRONE, PÖTTINGER, Rigitrac, and Sepp Knüsel also extend the fleet of machinery
Operate specialized tractors like the REFORM Metrac H75 or Rigitrac SKH 60 with its slope-compensating cabin
Start mowing with the KRONE EasyCut F 320 Highland with side shift and others
Operate windrowers with ideal ground adjustment on difficult terrain, thanks to the unique design of the Reiter RESPIRO mergers R3 Compact, R7 RD, and R9 Profi
Transport resources with loading wagons like the modular REFORM PrimAlpin or the PÖTTINGER JUMBO 8450 DB
Machines included in the Hay & Forage Pack
Brielmaier – Motor Mower S250
KRONE – EasyCut F 320 Highland
KRONE – Swadro S 350 Highland
KRONE – Vendro 820 Highland
PÖTTINGER – JUMBO 8450 DB
PÖTTINGER – TOP 1403 C
REFORM – MOUNTY 110V
REFORM – MULI T8X
REFORM – Metrac
REFORM – PrimAlpin
REFORM – Tipper Unit
Reiter – R3 compact 700
Reiter – R7 rd
Reiter – R9 profi
Rigitrac – SKH 60
Sepp Knüsel – Tornado
Sepp Knüsel – Tornado Plus
© 2021 GIANTS Software GmbH. Published and developed by GIANTS Software. Farming Simulator, GIANTS Software and its logos are trademarks or registered trademarks of GIANTS Software. All rights reserved. All manufacturers, agricultural machinery, agricultural equipment, names, brands and associated imagery featured in this game in some cases include trademarks and/or copyrighted materials of their respective owners. The agricultural machines and equipment in this game may be different from the actual machines in shapes, colours and performance. All other names, trademarks and logos are property of their respective owners.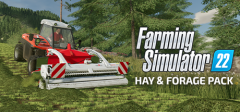 FARMING SIMULATOR 22 – HAY & FORAGE PACK (GIANTS)
Informations
| | |
| --- | --- |
| Publisher: | GIANTS Software GmbH |
| Studio: | Giants Software |
| Label: | GIANTS Software |
| Platform: | Mac/PC |
Minimum Requirements
| | |
| --- | --- |
| Windows | |
| Requires a 64-bit processor and operating system | |
| OS: | Windows 10 Home (x64) |
| Processor: | Intel Core i5-3330 or AMD FX-8320 or better |
| Memory: | 8 GB RAM |
| Graphics: | GeForce GTX 660 or AMD Radeon R7 265 or better (min 2GB VRAM) |
| DirectX: | Version 11 |
| Network: | Broadband Internet connection |
| Storage: | 7 GB available space |
| Sound Card: | Sound card |
| Additional Notes: | These system requirements can´t cover all possible system configurations so issues could occur that avoid or influence the functionality in some cases. |
| macOS | |
| Requires a 64-bit processor and operating system | |
| OS: | 10.14 or newer |
| Processor: | Intel Core i5-3330 or AMD FX-8320 or better |
| Memory: | 8 GB RAM |
| Graphics: | GeForce GTX 660, AMD Radeon R7 265 or better (min 2GB VRAM, DX11/DX12 support) |
| Network: | Broadband Internet connection |
| Storage: | 7 GB available space |
| Sound Card: | Sound Card |
| Additional Notes: | These system requirements can´t cover all possible system configurations so issues could occur that avoid or influence the functionality in some cases. |
Recommended Requirements
| | |
| --- | --- |
| Windows | |
| Requires a 64-bit processor and operating system | |
| OS: | Windows 10 Home (x64) |
| Processor: | Intel Core i5-5675C or AMD Ryzen 5 1600 or better |
| Memory: | 8 GB RAM |
| Graphics: | GeForce GTX 1060 or Radeon RX 570 or better (min 6GB VRAM) |
| DirectX: | Version 11 |
| Network: | Broadband Internet connection |
| Storage: | 7 GB available space |
| Sound Card: | Sound card |
| Additional Notes: | These system requirements can´t cover all possible system configurations so issues could occur that influence the functionality in some cases. |
| macOS | |
| Requires a 64-bit processor and operating system | |
| OS: | 10.14 or newer |
| Processor: | Intel Core i5-5675C or AMD Ryzen 5 1600 or better |
| Memory: | 8 GB RAM |
| Graphics: | GeForce GTX 1060 or Radeon RX 570 or better (min 6GB VRAM) |
| Network: | Broadband Internet connection |
| Storage: | 7 GB available space |
| Sound Card: | Sound Card |
| Additional Notes: | These system requirements can´t cover all possible system configurations so issues could occur that influence the functionality in some cases. |
Ratings
RATING SYSTEM: PEGI (Europe)
3