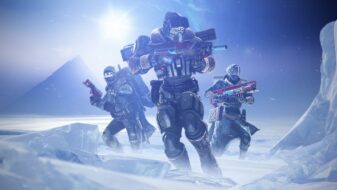 Why you should buy Destiny 2: Beyond Light:
You are a fan of the Destiny franchise.
You wish to expand the story of Destiny 2.
You're in a mood for some solid shooting.
The story continues
Destiny 2: Beyond Light is a major expansion for the FPS game developed by Bungie. This time, you'll travel to Jupiter's moon Europa, which is fully covered in ice and snow. Take the challenge to face the Fallen Kell Eramis and prevent her from taking revenge on the Traveler as she and many other Fallen believe, that he abandoned them.
Well-driven story
Destiny 2: Beyond Light's storyline is considered one of the most engaging of the whole franchise. The villain is actually quite easy to empathize with, and many other characters have interesting threads. Though the gameplay won't take many hours, the adventure is enjoyable and makes a nice sequel to the main game.
Beware of the Darkness
In Destiny 2: Beyond Light, you'll get the chance to discover the mysteries, which lie beneath the ancient ice. With the new dangers in your sight, you'll have to wield a new power – Stasis. Use your new ice-based abilities to freeze the enemies and gain an advantage on the battlefield.
New features
This expansion gives the players access to a completely new destination. Explore the icy desert of Europa, and discover the long-dormant Deep Stone Crypt, hidden way below the frozen tundra. New quests and challenges will lead you on the way to claiming all of the rewards waiting for you.
Destiny 2: Beyond Light: key features
A completely new location of Europa,
Engaging storyline,
New quests and challenges,
Player vs. environment locations,
The new Raid.