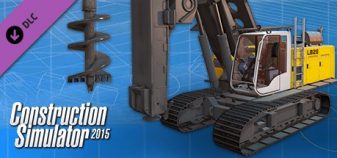 CONSTRUCTION SIMULATOR 2015: LIEBHERR LB 28
Genre:
Languages:
Czech, English (US), French Canadian and English, German, Hungarian, Italian, Japanese, Polish, Russian, Spanish – Latin America, Turkish, Portuguese-Brazil
The second expansion for Construction Simulator 2015 promises even more fun on the building site! The new LIEBHERR machine, the rotary drilling rig LB 28, adds a completely new functionality to your virtual motor pool. Secure the foundation of a high-rise project with additional piles.
The precision and efficiency of the LB28 is especially useful for statically demanding projects like high-rise buildings. Due to this machine's extreme length of 26 meters when not set up and an enormous weight of nearly 100 tons, you will need a heavy transport trailer in order to move it to and from the building site. The trailer is also part of this expansion.
To prevent problems with the AI traffic, an escort vehicle to block the road will be made available to every owner of the main game starting on the day of the release of the second expansion. This way, friends who do not have the second expansion can still help you out!
Furthermore, you can expect two new and exciting construction missions. Prove your skills by constructing high-rise apartment and office buildings. You will of course need your newly acquired machine to successfully overcome these challenges. You will also be able to use your rotary drilling rig for all existing high-rise missions.
The additional content will be available from the vehicle dealer as soon as you have downloaded the DLC. Keep in mind that you will need to have enough money in the game to buy the new machines.
You do not have to buy the expansion in order to keep playing with your friends in multiplayer mode. However, you will not be able to use the new vehicles are start the new missions yourself.
Please be aware that you must have the main Construction Simulator 2015 game in order to play the DLC 2.
– Original licensed Liebherr LB28 rotary drilling rig, new heavy transport trailer
– Additional missions: high-rise apartment building and high-rise office building
– Starting on the day of the release of the second expansion, all owners of Construction Simulator 2015 will have access to a transport escort vehicle
© 2014 astragon Entertainment GmbH & weltenbauer. Software Entwicklungs GmbH. Published and distributed by astragon Entertainment GmbH. Construction Simulator, astragon, astragon Entertainment and its logos are trademarks or registered trademarks of astragon Entertainment GmbH. weltenbauer., weltenbauer. Software Entwicklungs GmbH and its logos are trademarks or registered trademarks of weltenbauer. Software Entwicklungs GmbH. All rights reserved. All other names, trademarks and logos are property of their respective owners.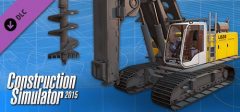 CONSTRUCTION SIMULATOR 2015: LIEBHERR LB 28
Informations
| | |
| --- | --- |
| Publisher: | Astragon Entertainment GmbH |
| Studio: | Weltenbauer. Software Entwicklung GmbH |
| Label: | Astragon Entertainment |
| Platform: | PC |
Minimum Requirements
| | |
| --- | --- |
| OS: | Windows Vista/7/8 |
| Processor: | Dual-Core Processor with 2.4 GHz |
| Memory: | 4 GB RAM |
| Graphics: | Graphics card with 1 GB VRAM (Geforce 400 Series or better | ATI Radeon HD 57xx or better |
| DirectX: | Version 9.0 |
| Network: | Broadband Internet connection |
| Storage: | 3 GB available space |
Recommended Requirements
| | |
| --- | --- |
| OS: | Windows Vista/7/8 |
| Processor: | Dual or Quad-Core Processor with 3 GHz |
| Memory: | 4 GB RAM |
| Graphics: | Graphics card with 2 GB RAM (Geforce GTX 660 or better | ATI Radeon HD 68xx, 77xx or better) |
| DirectX: | Version 9.0 |
| Network: | Broadband Internet connection |
| Storage: | 3 GB available space |