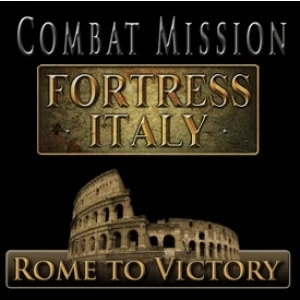 COMBAT MISSION FORTRESS ITALY: ROME TO VICTORY
Genre:
Languages:
English (US)
CMFI Rome to Victory Module Rome has been liberated! It's time to finish this war! Continue the march to the Alps as we introduce new TO&E that includes Indian, Brazilian, South African and Free French forces. Also added are Waffen SS, Luftwaffe Herman Goering units, new vehicles and combat formations for existing nationalities. Now you have everything that you need to end this war.
Continue to fight your way through Italy from June 1944 in Rome to the Italian Alps and victory. Break through the Arno Line as you drive your way North through the Italian countryside. The meticulously researched forces introduced in Rome to Victory are the final details that create the perfect immersion.
BASE GAME IS REQUIRED TO PLAY ROME TO VICTORY
GUSTAV LINE DLC IS RECOMMENDED
– 2 campaigns
– 15 standalone battles
– More Quick Battle maps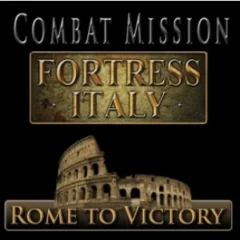 COMBAT MISSION FORTRESS ITALY: ROME TO VICTORY
Informations
| | |
| --- | --- |
| Publisher: | Slitherine Software UK Ltd |
| Studio: | Slitherine Ltd |
| Label: | Slitherine Ltd |
| Platform: | Mac/PC |
Minimum Requirements
| | |
| --- | --- |
| OS: | Windows 7 or MacOS 10.7.5 (Lion) |
| Processor: | Pentium IV 1.8 GHz or equivalent speed AMD processor |
| Graphics: | 256 MB VRAM or better and must support 1024x768 or higher resolution in OpenGL***IMPORTANT*** Not all Intel integrated video cards will play the game. If that is your only video card try the demo before purchasing |
| DirectX: | DirectX 10 compatible Sound Card (Windows only) |
| Memory: | 4 GB RAM |
| Storage: | 13 GB Hard Drive space |
| Additional Notes: | The game does not work in a virtualized environment (virtual machine) |
Recommended Requirements
| | |
| --- | --- |
| OS: | Windows 10 or MacOS 10.13.x (High Sierra) |
| Processor: | Pentium IV 2.8 GHz or equivalent speed AMD processor or better |
| Graphics: | 1 GB VRAM or better and must support 1024x768 or higher resolution in OpenGL |
| DirectX: | DirectX 12 compatible Sound Card (Windows only) |
| Memory: | 8 GB RAM or more |
| Storage: | 14 GB Hard Drive space |
| Additional Notes: | The game does not work in a virtualized environment (virtual machine) |