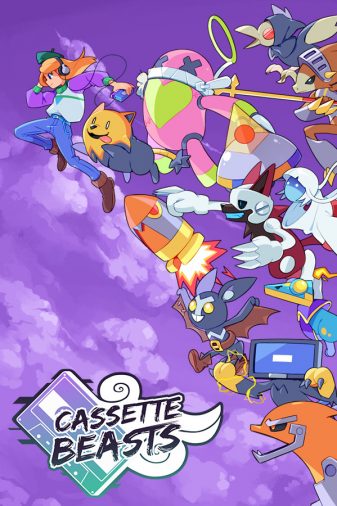 CASSETTE BEASTS
Genre:
Open World, Role Playing, Adventure, Indie
Languages:
French Canadian and English, German, Italian, Japanese, Korean, Spanish – Spain, Portuguese-Brazil, Simplified Chinese, Spanish – Latin America
Welcome to New Wirral, a remote island inhabited by strange creatures you've only dreamed of, nightmares you hopefully haven't, and a cast of brave folks who use cassette tapes to transform for battle. To find a way home you'll need to explore every inch of the island, and record monsters to your trusty cassette tapes to gain their abilities!
Transform into monsters…using retro cassette tapes?!
Faced with the constant threat of monster attacks, the residents of Harbourtown, New Wirral choose to fight fire with fire. Record any of the 120 monsters you face to tape; then play it back to take on its form for battle!"
Fuse monster forms!
Getting close to your companion has benefits–while transformed you can combine your strengths to gain the upper hand in battle! Any two monster forms can be fused to produce unique, fully-animated new fusion forms with over 14 000 different combinations!"
Explore a rich open world
Find shortcuts, uncover secrets and discover hidden dungeons in this non-linear open world! You can also gain abilities from monsters like flight, climbing, dashing and magnetism to help you traverse this strange land."
Travel alongside a diverse cast of human companions
Never fight alone! Form bonds, spend time together, and help your selected partner complete personal goals to become a better team. The strength of your relationship determines how well you're able to fuse!"
Master a deep battle system
Take advantage of elemental chemistry to apply extra buffs or debuffs alongside your attack, or even alter your opponent's elemental type!"
Play couch-co op with Friends
Team up in local multiplayer with a friend to explore an open world, transform and battle together! Facing the unknown as a duo will surely develop your relationship!
– Monster collecting RPG with turn-based battles
– Transform into monsters
– Fuse any two monsters
– Open world exploration
– Character creation
– Six NPC companions with their own storylines
– Local co-op
© Copyright 2023 Bytten Studio. Developed by Bytten Studio. Published by Raw Fury AB. All Rights Reserved.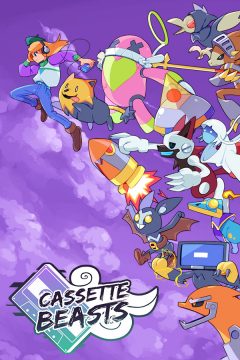 Informations
| | |
| --- | --- |
| Publisher: | Raw Fury |
| Studio: | Bytten Studio |
| Label: | Raw Fury |
| Platform: | PC/Linux |
| | |
| --- | --- |
| Windows | |
| Requires a 64-bit processor and operating system | |
| OS: | Windows 10 |
| Processor: | 2+ Cores, 2+ GHz |
| Memory: | 8 GB RAM |
| Graphics: | 2 GB VRAM, OpenGL 3.3 |
| Storage: | 2 GB available space |
| Additional Notes: | 30 FPS @ 1080p on 'Low' quality preset |
| SteamOS + Linux | |
| Requires a 64-bit processor and operating system | |
| OS: | Ubuntu 18.04+ or SteamOS |
| Processor: | 2+ Cores, 2+ GHz |
| Memory: | 8 GB RAM |
| Graphics: | 2 GB VRAM, OpenGL 3.3 |
| Storage: | 2 GB available space |
| Additional Notes: | 30 FPS @ 1080p on 'Low' quality preset |
Recommended Requirements
| | |
| --- | --- |
| Windows | |
| Requires a 64-bit processor and operating system | |
| OS: | Windows 10 |
| Processor: | AMD Ryzen™ 5 or better |
| Memory: | 8 GB RAM |
| Graphics: | 4 GB VRAM, NVIDIA GTX 970 or better |
| Storage: | 2 GB available space |
| Additional Notes: | 60 FPS @ 1080p / 30 FPS @ 4k on 'High' quality preset |
| SteamOS + Linux | |
| Requires a 64-bit processor and operating system | |
| OS: | Ubuntu 18.04+ or SteamOS |
| Processor: | AMD Ryzen™ 5 or better |
| Memory: | 8 GB RAM |
| Graphics: | 4 GB VRAM, NVIDIA GTX 970 or better |
| Storage: | 2 GB available space |
| Additional Notes: | 60 FPS @ 1080p / 30 FPS @ 4k on 'High' quality preset |
Ratings
RATING SYSTEM: ACB (Australia)
PG (Parental Guidance)
Scary Scenes
RATING SYSTEM: CERO (Japan)
7+
Fear
RATING SYSTEM: ClassInd (Brazil)
10
Violence
RATING SYSTEM: ESRB (US & Canada)
EVERYONE 10+
FANTASY VIOLENCE
RATING SYSTEM: GRAC (South Korea)
All
Fear
Violence
RATING SYSTEM: PEGI (Europe)
7
Fear
RATING SYSTEM: RARS (Russia)
16
Fear
Violence
RATING SYSTEM: USK (Germany)
12
Fantasy Violence
Scary Moments