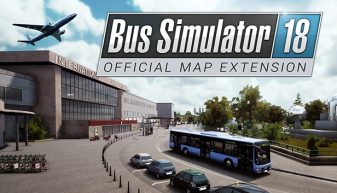 BUS SIMULATOR 18 – OFFICIAL MAP EXTENSION
Genre:
Languages:
Czech, English (US), French Canadian and English, German, Italian, Japanese, Korean, Polish, Russian, Spanish – Latin America, Turkish, Portuguese-Brazil
The official map extension of the popular Bus Simulator expands the main game by 2 brand new municipalities with 9 new, varied missions and 20 bus stops. Many new road miles in Seaside Valley and its surroundings are just waiting to be discovered by you on board of your favorite bus.
The new district of Kerststadt is located slightly above Seaside Valley and offers you, amongst others, the challenge to establish a new public transportation network between Seaside Valley's city center and Kerststadt's recently built airport. Kerststadt is also known as the 'Tech Hub' of Seaside Valley.
Thanks to optimal route planning on your side, you can help to connect the University of Kerststadt with the Ministry of Economic Affairs as well as the rising start-up scene. As students like to party, the mandatory night bus line should also not be missing from your schedules!
Furthermore, you are invited to discover the picturesque mountain village of Sonnstein and improve the revenues gained from tourism by establishing a good local public transport. While driving, you will have ample time to admire the incredible panoramic views, the original half-timbered houses and the untouched nature that surrounds Sonnstein. But beware of the challenging serpentines that lead to up to the village!
Serpentines may be the most natural way to overcome a steep incline but with a large bus, oncoming traffic and narrow bends all your skills as a bus driver will be needed to bring your passengers safely to their destination.
Just as you are used to from the main game, the multiplayer mode allows you to invite up to 3 friends to help you with the further development of your bus company in this exciting new add-on. Have fun discovering a huge, freely drivable game world and the exciting everyday life of a bus driver as a team in the 1. official map extension of Bus Simulator.
– Official map extension for Bus Simulator – a game much loved by critics and fans alike.
– 9 new missions with a playtime of up to 10 hours in total (playtime varies depending on player type).
– Expand your game by 2 municipal districts, 2 skins, 4 decals and 20 bus stops.
– Many new road miles in the varied districts of 'Kerststadt' and 'Sonnstein'.
– Connect an airport and a tourist region to the city center of Bus Simulator's metropolis Seaside Valley.
– Meet new characters such as the consultant for urban development, Michael Bach. He will also introduce you to the new missions.
– Enhanced voice-overs of bus passengers provide even more variety (English and German) in your daily life as a bus driver.
© 2018 astragon Entertainment GmbH and stillalive studios.
Published and distributed by astragon Entertainment GmbH. Bus Simulator 18, astragon, astragon Entertainment and its logos are trademarks or registered trademarks of astragon Entertainment GmbH. "Mercedes-Benz" and the "three-pointed star in a ring" are trademarks of Daimler AG and used under license by astragon Entertainment GmbH. Manufactured under license from MAN. MAN is a trademark of MAN Truck & Bus AG. IVECO BUS and URBANWAY are brands of CNH Industrial. Manufactured under license from CNH Industrial. "Setra" and "K im Kreis" are trademarks of EvoBus GmbH and used under license by astragon Entertainment GmbH. Unreal, Unreal Engine, the circle-U logo and the Powered by the Unreal Engine logo are trademarks or registered trademarks of Epic Games, Inc. in the United States and elsewhere. All intellectual property relating to the buses and bus equipment, associated brands and images (including trademarks and/or copyrighted materials) featured in the game are therefore the property of their respective companies. The buses in this game may vary from the actual products in shape, colour and performance. All rights reserved. All other names, trademarks and logos are property of their respective owners.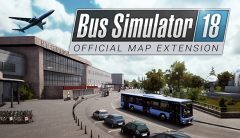 BUS SIMULATOR 18 – OFFICIAL MAP EXTENSION
Informations
| | |
| --- | --- |
| Publisher: | Astragon Entertainment GmbH |
| Studio: | stillalive studios |
| Label: | Astragon Entertainment |
| Platform: | PC |
Minimum Requirements
| | |
| --- | --- |
| OS: | Windows 7/8/10 64-Bit |
| Processor: | Intel Core i3 with 3.3 GHz or AMD Phenom II X4 with 3.2 GHz |
| Memory: | 6 GB RAM |
| Graphics: | NVIDIA GeForce GTX 750 (1GB VRAM) or AMD Radeon R7 360 (2GB VRAM) or higher |
| DirectX: | Version 11 |
| Network: | Broadband Internet connection |
| Storage: | 6500 MB available space |
Recommended Requirements
| | |
| --- | --- |
| OS: | Windows 10 64-Bit |
| Processor: | Intel Core i5-4670 (4th gen.) with 3.4 GHz or AMD FX-8370 with 4 GHz or equivalent |
| Memory: | 8 GB RAM |
| Graphics: | NVIDIA GeForce GTX 970 (4GB VRAM) or AMD Radeon R9 290 (4GB VRAM) or higher |
| DirectX: | Version 11 |
| Network: | Broadband Internet connection |
| Storage: | 6500 MB available space |