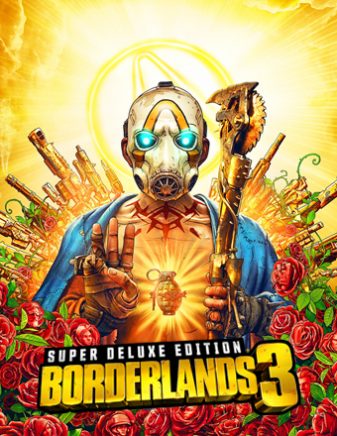 Borderlands 3 is the third main installment of the recognized series of FPP shooters with RPG elements, which significantly contributed to the separation of the genre of the so-called looter shooters (it also includes such productions as Tom Clancy's The Division, Anthem or Warframe). Production introduces a number of changes and improvements to the known formula. Gearbox Software is responsible for the development and release of this title
A MAYHEM-FUELED THRILL RIDE
Borderlands 3 takes place five years after the events of the second part. This time the plot focuses on Sirens, or women endowed with mysterious, superhuman powers, who play an important role in the universe of this series. The players' heroes have to face the cult Children of the Vault, headed by Calypso Twins – Mermaid Tyreen and her twin brother Troy, inexplicably also wielding supernatural powers.
YOUR VAULT HUNTER, YOUR PLAYSTYLE
In Borderlands 3 u can become one of four extraordinary Vault Hunters, each with unique abilities, playstyles, deep ability trees, and tons of personalization options. All Vault Hunters are capable of awesome mayhem alone, but together they are unstoppable.
LOCK, LOAD, AND LOOT
With bazillions of guns and gadgets, every fight is an opportunity to score new gear. Firearms with self-propelling bullet shields? Check. Rifles that spawn fire-spewing volcanoes? Obviously. Guns that grow legs and chase down enemies while hurling verbal insults? Yeah, got that too.
NEW BORDERLANDS
Borderlands 3 includes new worlds beyond Pandora, each featuring unique environments to explore and enemies to destroy. Tear through hostile deserts, battle your way across war-torn cityscapes, navigate deadly bayous, and more!
QUICK & SEAMLESS CO-OP ACTION
Play with anyone at any time online or in split-screen co-op, regardless of your level or mission progress. Take down enemies and challenges as a team, but reap rewards that are yours alone – no one misses out on loot.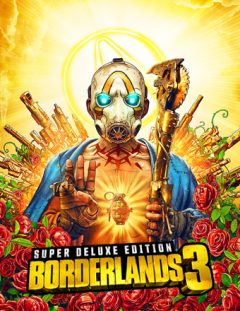 Borderlands 3 Super Deluxe Edition
Informations
| | |
| --- | --- |
| DEVELOPER: | Gearbox Software |
| PUBLISHER: | 2K |