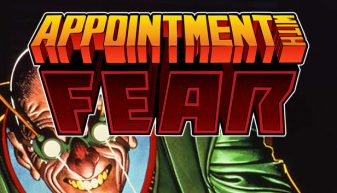 This content requires the base game Fighting Fantasy Classics on Steam in order to play.
Tough, incorruptible champion of law and order, YOU are a SUPERHERO!
Using your superpowers, you protect the innocent citizens of teeming Titan City from the terrorism, violence, kidnapping and corruption of a host of super-villains. Your mission is to discover the location of the top-secret F.E.A.R. meeting, capture the Titanium Cyborg and his cohorts, and bring them to justice.
Relive Fighting Fantasy – the beloved text-based, interactive adventures of the 80s and 90s! You have a choice of four super powers – Psi-Powers, Super Strength, Enhanced Technological Skills or Energy Blasts – and the power you choose will affect the course of your mission. There are Hero points to be won or lost, clues to follow, dangers to face and villains to fight. Appointment with FEAR has been converted to a digital format using Tin Man Games' acclaimed Gamebook Adventures engine.
NEW FEATURES
• Original artwork re-coloured for the digital version.
• Each supervillain has their own special collection card, which is added to the gallery once they have been brought to justice!
• Automated Adventure Sheet that keeps track of your stats, Hero Points and important clues you find in your investigation.
• New Adventure Sheet hero portraits created especially for Appointment with FEAR.
• New "Superhero Swing" soundtrack added to Fighting Fantasy Classics to play while reading.
• New retro mode comic book page layout.
Appointment with FEAR is a digital gamebook DLC intended for use with Fighting Fantasy Classics that is an almost 1-to-1 recreation of the original 1985 gamebook. Appointment with FEAR is also available to purchase as an enhanced standalone title that contains additional story elements, artwork and gameplay features. Please note that purchasing one does not unlock the other and will need to be purchased if desired in the other format.
© Tin Man Games Pty Ltd, 2022
Fighting Fantasy is a trademark owned by Steve Jackson and Ian Livingstone, all rights reserved.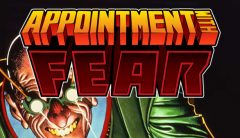 APPOINTMENT WITH FEAR (FIGHTING FANTASY CLASSICS)
Informations
| | |
| --- | --- |
| Publisher: | Tin Man Games |
| Studio: | Tin Man Games |
| Label: | Tin Man Games |
| Platform: | PC/Mac |
| | |
| --- | --- |
| Windows: | |
| Requires a 64-bit processor and operating system | |
| OS: | Windows 7 |
| Processor: | 1.5 GHz |
| Memory: | 2 MB RAM |
| Graphics: | Hardware Accelerated Graphics with 1GB memory |
| macOS: | |
| Requires a 64-bit processor and operating system | |
| OS: | Mac OS 10.13 |
| Processor: | 1.5 GHz |