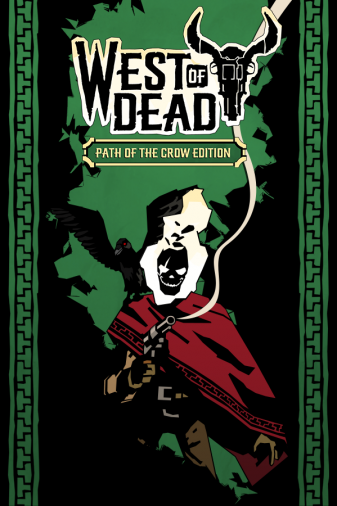 WEST OF DEAD: THE PATH OF THE CROW DELUXE EDITION
Purgatory, Wyoming, 1888.
A place of gun smoke and darkness, sin and damnation, wendigos and witches. A shifting, chaotic world that takes its form from the memories, culture or beliefs of the souls who pass through. When a dead man awakens with only the memory of a figure in black, he sets into motion a chain of events that have truly mythic consequences.
Step into the boots of the dead man William Mason (voiced by Ron Perlman) and descend into the grim and gritty world of Purgatory in this fast-paced cover shooter which combines the fluidity of twin-stick controls and tactical cover usage. Put your skills to the test – Dodge behind cover as you try to outgun your enemies in the unknown procedurally generated hunting grounds. The Wild West has never been this dark.
The Path of the Crow Deluxe Edition contains:
The Crow familiar, a friend to our hero. The crow will stay by your side through the darkest of paths.
A new level, The Battlefield. Dilapidated and riven with rot and decay, the land here has been shattered and burned by explosions, with a fog-filled with the calls to charge. This level is the epitome of all war and it is yours to battle through.
A new enemy, The Captain, a truly frightening opponent, maddened by his lust for war. He is armed with a cannon and a sabre, this menace is trouble close or afar.
A new weapon, The Mortar, claimed from The Battlefield, this new weapon will terrify even those cowering behind cover.
And the Original Soundtrack. This includes 12 tracks including "Run" by Bror David Neideman, sung by Camilla Neideman with additional lyrics by Roland Smedberg.
© Copyright 2020 Upstream Arcade. Developed by Upstream Arcade. Published by Raw Fury AB. All Rights Reserved.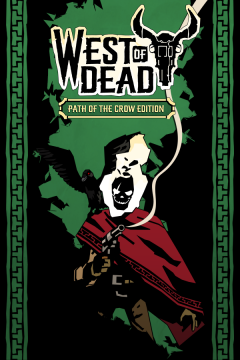 WEST OF DEAD: THE PATH OF THE CROW DELUXE EDITION
Informations
| | |
| --- | --- |
| Publisher: | Raw Fury |
| Studio: | Upstream Arcade |
| Label: | Raw Fury |
| Platform: | PC |
Minimum Requirements
| | |
| --- | --- |
| OS: | Windows 7 |
| Processor: | Intel i5-4460 CPU / AMD FX-8350 |
| Memory: | 4 GB RAM |
| Graphics: | Nvidia Geforce GTX 1030 / Radeon RX 550 |
| Storage: | 1 GB available space |
Recommended Requirements
| | |
| --- | --- |
| OS: | Windows 10 |
| Processor: | Intel Core i5-9400 / AMD Ryzen 5 3400G |
| Memory: | 8 GB RAM |
| Graphics: | Nvidia Geforce GTX 1060 / Radeon RX 580 |
| DirectX: | Version 11 |
| Storage: | 1 GB available space |
Ratings
RATING SYSTEM: PEGI (Europe)
12
Fear
Moderate Violence