Expand your Orcs Must Die! arsenal with two new weapons and two new traps. With the Artifacts of Power in your spellbook, you'll be demolishing levels, beating your friends on the leaderboards, and most importantly, killing a bunch of orcs deader than dead. Only the best tools for the last surviving War Mage!
Artifacts of Power
New upgrades: Spend skulls on new upgrades for Shock Zapper and Floor Scorcher.
Alchemist's Satchel: Drop a series deadly acid bombs and skeletonize multiple groups of Orcs at once.
Shock Zapper: Zap fliers and ground units equally dead with this oversized pest remover.
Vampiric Gauntlets: Drain the enemy's health while healing you at the same time.
Floor Scorcher: Burn entire waves of complacent enemies with this pop-up flaming surprise.
© 2011 Robot Entertainment, Inc. All rights reserved.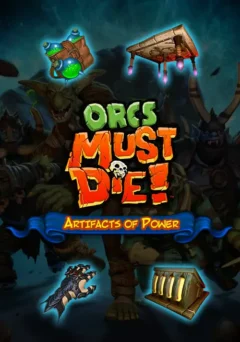 ORCS MUST DIE! – ARTIFACTS OF POWER
Informations
| | |
| --- | --- |
| Publisher: | Robot Entertainment, INC. |
| Studio: | Robot Entertainment |
| Label: | Robot Entertainment |
| Platform: | PC |
Minimum Requirements
| | |
| --- | --- |
| OS:Windows XP, Windows Vista or Windows 7 | |
| Processor:2GHz Dual Core | |
| Memory:2 GB RAM | |
| Graphics:NVIDIA GeForce 6800 or ATI Radeon x1950 or better with 256MB VRAM | |
| DirectX®:dx90c | |
| Hard Drive:5 GB HD space | |
Ratings
RATING SYSTEM: PEGI (Europe)
12