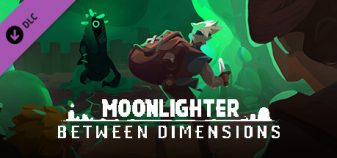 The village of Rynoka. Once again peaceful and prosperous after the events of the Fifth Door. Shaded with green trees, inhabited by adventurous and entrepreneurial creatures alike. You can understand why a person would like to live here endlessly. However, life doesn't stop for anybody. The wind of change is blowing through Rynoka. A new, cryptic Portal appeared out of nowhere. Does it bring a new threat? Or is it a new way to make an easy profit? And most importantly… are you prepared to enter the unknown?
Between Dimensions is the biggest Moonlighter expansion. The DLC enlarges the main experience by filling current dungeons with new creatures, populating all-new Interdimensional Dungeon with mini-bosses, swarming the adventure with new weapons, armory, shop items, and rings.
Features:
– A brand-new Interdimensional Dungeon (and a chance for it to appear as a Corrupted Dungeon in the original dungeons)
– 10 original enemies and 5 minibosses
– Full set of weapons with a new short sword, big sword, bow, gloves, and spear
– Set of armor with a new helmet, chest, and boots
– Trick Weapons – 10 unique weapons – both powerful… and punishing!
– New Rings – which are boosting Will's passive abilities
– New Shop upgrade – allowing Will to showcase his new Interdimensional Items
– New Customers asking to trade and an unfamiliar NPC: The Trader
– Additional story and lore
© 2018 11 bit studios S.A., 11 bit studios™ and respective logos are trademarks of 11 bit studios S.A. All rights reserved. Digital Sun™, Moonlighter™ and respective logos are trademarks of Wildframe Media. All rights reserved.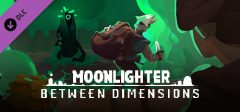 MOONLIGHTER: BETWEEN DIMENSIONS
Informations
| | |
| --- | --- |
| Publisher: | 11 Bit Studios |
| Studio: | Digital Sun |
| Label: | 11 bit studios |
| Platform: | PC/Mac/Linux |
Minimum Requirements
| | |
| --- | --- |
| – OS: | Windows 7 |
| – Processor: | Intel(R) Core(TM)2 Quad 2.7 Ghz, AMD Phenom(TM)II X4 3 Ghz |
| – Memory: | 4 GB RAM |
| – Graphics: | GeForce GTX 260, Radeon HD 5770, 1024 MB, Shader Model 3.0 |
| – Storage: | 1 GB available space |
| – Sound Card: | DirectX compatible |
Recommended Requirements
| | |
| --- | --- |
| – OS: | Windows 10 |
| – Processor: | Intel(R) Core(TM) i5 |
| – Memory: | 8 GB RAM |
| – Graphics: | GeForce GTX 660 |
| – Storage: | 1 GB available space |
| – Sound Card: | DirectX compatible |