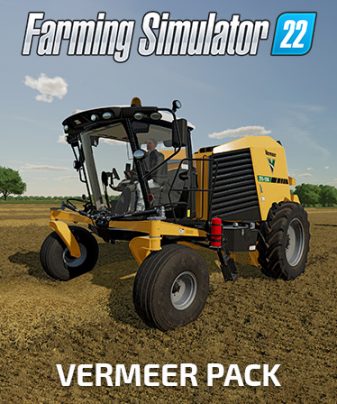 FARMING SIMULATOR 22 – VERMEER PACK (STEAM)
Genre:
Languages:
Czech, Danish, Dutch, French Canadian and English, Finnish, German, Hungarian, Italian, Japanese, Korean, Norwegian, Polish, Portuguese-Brazil, Romanian, Russian, Spanish – Latin America, Swedish, Turkish, Traditional Chinese, Spanish Mexico, Simplified Chinese
From the inventors of the round baler comes a set of powerful and innovative machines for Farming Simulator 22: In addition to the world's first self-propelled baler, the Vermeer pack includes five efficient and unique machines from the international manufacturer from North America.
With the ZR5-1200 self-propelled baler by Vermeer, the first of its kind, you'll produce bales as fast as possible, with great comfort and maneuverability – but without the necessity of a tractor. Zero-turn capability and high transport speed saves you a lot of time on and in between fields.
A trailed mower, a twin rake as well as a high-duty baler and a straw blower are also included in the Vermeer pack to round off the selection of sturdy machinery to make your grassland operation more efficient.
© 2021 GIANTS Software GmbH. Published and developed by GIANTS Software. Farming Simulator, GIANTS Software and its logos are trademarks or registered trademarks of GIANTS Software. All rights reserved. All manufacturers, agricultural machinery, agricultural equipment, names, brands and associated imagery featured in this game in some cases include trademarks and/or copyrighted materials of their respective owners. The agricultural machines and equipment in this game may be different from the actual machines in shapes, colours and performance. All other names, trademarks and logos are property of their respective owners.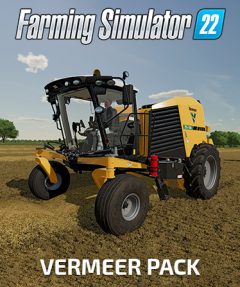 FARMING SIMULATOR 22 – VERMEER PACK (STEAM)
Informations
| | |
| --- | --- |
| Publisher: | GIANTS Software GmbH |
| Studio: | Giants Software |
| Label: | GIANTS Software |
| Platform: | PC/Mac |
Minimum Requirements
| | |
| --- | --- |
| Windows: | |
| Requires a 64-bit processor and operating system | |
| OS: | Windows 10 Home (x64) |
| Processor: | Intel Core i5-3330 / AMD FX-8350 or equivalent |
| Memory: | 8 MB RAM |
| Graphics: | GeForce GTX 660 (2 GB) / Radeon R9 390X (8 GB) |
| Storage: | 7 MB available space |
| Sound Card: | Sound card |
| Additional Notes: | These system requirements can´t cover all possible system configurations so issues could occur that influence the functionality in some cases. |
| macOS: | |
| Requires a 64-bit processor and operating system | |
| OS: | 10.14 or newer |
| Processor: | Intel Core i5-3330 or AMD FX-8320 or better |
| Memory: | 8 MB RAM |
| Graphics: | GeForce GTX 660, AMD Radeon R7 265 or better (min 2GB VRAM, DX11/DX12 support) |
| Storage: | 7 MB available space |
| Sound Card: | Sound Card |
| Additional Notes: | These system requirements can´t cover all possible system configurations so issues could occur that influence the functionality in some cases. |
Recommended Requirements
| | |
| --- | --- |
| Windows: | |
| Requires a 64-bit processor and operating system | |
| OS: | Windows 10 Home (x64) |
| Processor: | Intel Core i5-5675C / AMD Ryzen 5 1600 or equivalent |
| Memory: | 8 MB RAM |
| Graphics: | GeForce GT 1060 (6 GB) / Radeon RX 570 (8 GB) |
| Storage: | 7 MB available space |
| Sound Card: | Sound card |
| Additional Notes: | These system requirements can´t cover all possible system configurations so issues could occur that influence the functionality in some cases. |
| macOS: | |
| Requires a 64-bit processor and operating system | |
| OS: | 10.14 or newer |
| Processor: | Intel Core i5-5675C or AMD Ryzen 5 1600 or better |
| Memory: | 8 MB RAM |
| Graphics: | GeForce GTX 1060 or Radeon RX 570 or better (min 6GB VRAM) |
| Storage: | 7 MB available space |
| Sound Card: | Sound Card |
| Additional Notes: | These system requirements can´t cover all possible system configurations so issues could occur that influence the functionality in some cases. |
Ratings
RATING SYSTEM: PEGI (Europe)
3