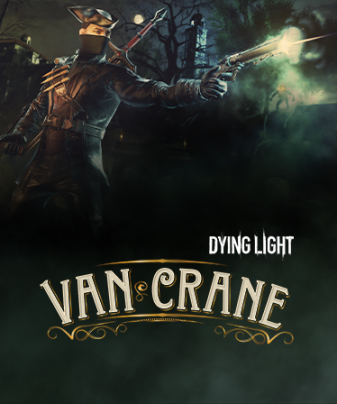 DYING LIGHT – VAN CRANE BUNDLE
Genre:
Languages:
Czech, Dutch, French Canadian and English, German, Italian, Japanese, Korean, Polish, Russian, Spanish – Latin America, Thai, Turkish, Portuguese-Brazil, Traditional Chinese, Spanish Mexico, Simplified Chinese
ABOUT THIS CONTENT
Though most seek shelter as the All-Hallows Eve arrives, you fear no monster, no creature of the night. For you are Van Crane, the slayer of horrors, and Halloween is but a feast to you. Your outfit, enchanted with blood, allows you to call any thrown weapon back to you. So take zombies by surprise, and cut off their heads when they least expect it. That's what you're known for anyway.
With a set of these day and night weapons, you'll be the end of the undead. As soon as you reach for the Dawnlight, your deadly pistol, they'll know the hunt has begun. Find a good spot to make sure you have time to load it with your silver bullet, and obliterate even the strongest monster with a single shot. Then, roll from behind the corner, and vanquish what's left with your crossbow, the Heart Piercer—showing its true potential just when the sun sets. And if you some ungodly creatures are still trying to escape their fate, purge them with your Sword of Night, which draws its power directly from the Moon. The streets of Harran must be cleansed, and you, Van Crane, have sworn to never rest until it's done.
The bundle contains:
– Van Crane—a new costume with a special "boomerang" skill
– Dawnlight—a pistol that can be loaded with silver bullets
– Heart Piercer—a crossbow that becomes more powerful and changes appearance at night
– Sword of Night—a sword that becomes more powerful and changes appearance at night
DYING LIGHT & DYING LIGHT: THE FOLLOWING © Techland 2021. Published by Techland. All other trademarks and copyrights are the property of their respective owners.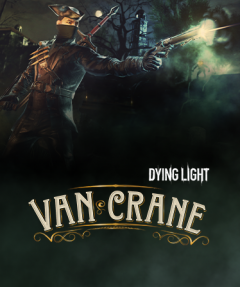 DYING LIGHT – VAN CRANE BUNDLE
Informations
| | |
| --- | --- |
| Publisher: | Techland S.A. |
| Studio: | Techland |
| Label: | Techland |
| Platform: | PC |
Minimum Requirements
| | |
| --- | --- |
| OS: | Windows® 7 64-bit / Windows® 8 64-bit / Windows® 8.1 64-bit |
| Processor: | Intel® Core™ i5-2500 @3.3 GHz / AMD FX-8320 @3.5 GHz |
| Memory: | 4 GB RAM DDR3 |
| Hard Drive: | 40 GB free space |
| Graphics: | NVIDIA® GeForce® GTX 560 / AMD Radeon™ HD 6870 (1GB VRAM) |
| DirectX®: | Version 11 |
| Sound: | DirectX® compatible |
| Additional Notes: | Laptop versions of graphics cards may work but are NOT officially supported. |
| Windows-compatible keyboard, mouse, optional controller (Xbox 360 Controller for Windows recommended) | |
Recommended Requirements
| | |
| --- | --- |
| OS: | Windows® 7 64-bit / Windows® 8 64-bit / Windows® 8.1 64-bit |
| Processor: | Intel® Core™ i5-4670K @3.4 GHz / AMD FX-8350 @4.0 GHz |
| Memory: | 8 GB RAM DDR3 |
| Hard Drive: | 40 GB free space |
| Graphics: | NVIDIA® GeForce® GTX 780 / AMD Radeon™ R9 290 (2GB VRAM) |
| DirectX®: | Version 11 |
| Sound: | DirectX® compatible |
| Additional Notes: | Laptop versions of graphics cards may work but are NOT officially supported. |
| Windows-compatible keyboard, mouse, optional controller (Xbox 360 Controller for Windows recommended) | |