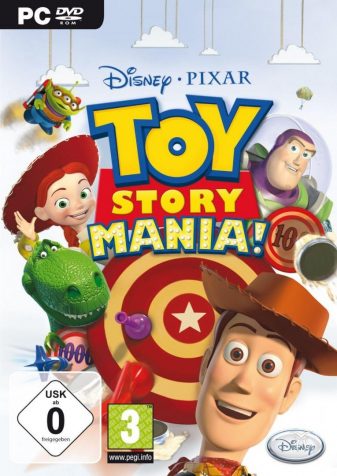 DISNEY•PIXAR TOY STORY MANIA!
Genre:
Inspired by the Disney/Pixar feature film "Toy Story" and the 4D Toy Story Mania! attraction that launched at Disneyland Resort and Walt Disney World Resort last year, Toy Story Mania! is now headed exclusively to the Nintendo Wii. Join all the classic "Toy Story" characters in Toy Story Mania! as Woody, Buzz and the gang stage their own zany, fun-filled carnival.
Toy Story Mania! allows players to participate in familiar and all-new carnival-inspired shooting galleries and win top prizes in mini-games. The game features multiplayer competitive and cooperative modes supporting up to two players, providing hours of fun. Bonus unlockables let players experience parts of the game in eye-popping 3D.
– Engage in 10 fast-paced shooting galleries – some adapted from the theme park attraction, others brand new and original to the game
– Includes a variety of addictive mini-game
– Experience bonus levels in 3D
– Compete against family and friends for top prizes
– Team up to unlock Easter eggs and collectibles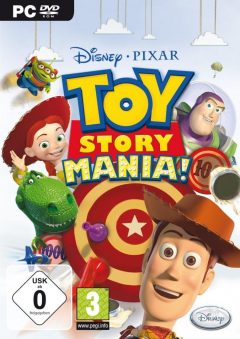 DISNEY•PIXAR TOY STORY MANIA!
Informations
| | |
| --- | --- |
| Publisher: | Disney |
| Studio: | Papaya Studios |
| Label: | Disney |
| Platform: | PC |
Minimum Requirements
| | |
| --- | --- |
| Graphic: | ATI Radeon 9200 128 MB |
| Graphic: | NVIDIA FX 5200 128 MB |
| Other: | Mouse requirement |
| Other: | Keyboard requirement |
| OS: | Windows Vista |
| OS: | Windows XP SP3 |
| CPU: | Intel Pentium IV 1.5GHz |
| Memory: | 1GB |
| Storage: | 3GB |
| Sound: | DirectX |
Ratings
RATING SYSTEM: ACB
G (General)
RATING SYSTEM: ESRB
ESRB: E (Everyone)
RATING SYSTEM: PEGI
3
RATING SYSTEM: USK
0