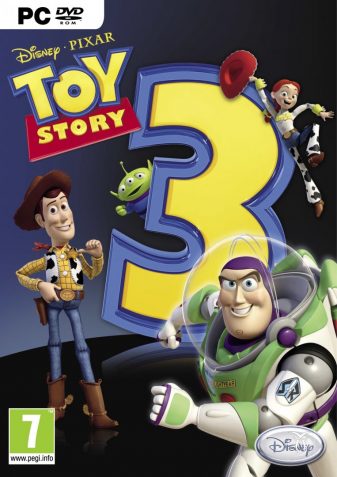 DISNEY PIXAR TOY STORY 3
Genre:
Languages:
Czech, Danish, Dutch, French Canadian and English, German, Italian, Norwegian, Polish, Spanish – Latin America, Swedish, Portuguese-Brazil
There is nothing like getting a shiny new toy, its fresh paint sparkling with possibilities – and Toy Story 3: The Videogame glitters from the moment you take it out of the box. Taking its presentation from the excellent movie, the game features bright and colourful visuals that look sensational in full High Definition. Woody, Buzz Lightyear and their playful buddies are just as charismatic as their film inspiration, bringing all their animated quirks and characteristics to your TV screen.
Not only does it look the part, Toy Story 3: The Videogame sounds the part, too. Starting with composer Randy Newman's catchy and familiar theme tune of You've Got A Friend In Me, the game is stuffed with exciting music that nicely clicks with your actions, whether you're collecting items for another toy or checkpoint racing on Woody's horse, Bullseye.
Topping off this terrific toy box of treasures is a cast of excellent voice actors mixing with some of the movie's vocal talents. The likes of Joan Cusack (playing as cowgirl Jessie), Jeff Garlin (Buttercup, the stuffed unicorn toy) and Kristen Schaal (Trixie the Triceratops) bring their respective characters to life with the same sense of joy that they do in the film – so you'll always feel like you've got friends in them…
– Unleash your imagination in the new world of Toy Box as you play with Andy's toys your way
– Play as Buzz, Woody or Jessie and go on an adventure through your favourite scenes from Toy Story 3.
– Journey through different kinds of missions, earn tons of points and buy new toys.
– Customize the way you play in Toy Box Mode by adding new buildings and landscapes and changing the townspeople.
© Disney•Pixar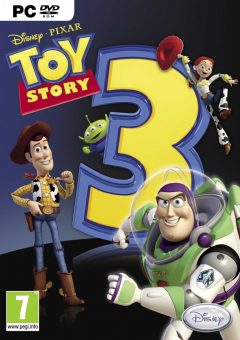 Informations
| | |
| --- | --- |
| Publisher: | Disney |
| Studio: | Avalanche Studios |
| Label: | Disney |
| Platform: | PC |
Minimum Requirements
| | |
| --- | --- |
| Graphic: | Nvidia GeForce FX 5600 128 MB |
| Graphic: | ATI Radeon 9600 128 MB |
| OS: | Windows 7 |
| OS: | Windows Vista SP2 |
| OS: | Windows XP SP3 |
| CPU: | AMD 3000 2.4GHz |
| CPU: | Core 2 1.8GHz |
| CPU: | Intel Pentium 4 2.4GHz |
| Memory: | 1GB |
| Storage: | 6GB |
| Sound: | 9.0c |
Ratings
RATING SYSTEM: ACB
PG (Parental Guidance)
RATING SYSTEM: ESRB
CARTOON VIOLENCE
Comic Mischief
EVERYONE 10+
RATING SYSTEM: PEGI
7
Violence
RATING SYSTEM: USK
12