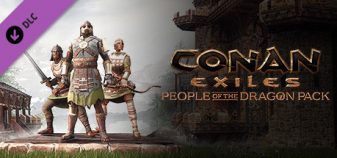 CONAN EXILES – PEOPLE OF THE DRAGON PACK
Genre:
Massively Multiplayer, Action, Adventure, RPG, Simulation, Strategy
Languages:
French Canadian and English, German, Italian, Japanese, Korean, Russian, Spanish – Spain, Portuguese-Brazil, Traditional Chinese, Simplified Chinese
Build mighty castles and towering fortresses with the People of the Dragon Pack. Enjoy its exclusive medieval style with several brand-new building pieces, such as tall spires, a new type of fortified window and a sloped roof with window.
The building pieces, armors, weapons, placeables and horse saddles of this pack are from the powerful kingdom of Nemedia. In the deep forests and tall mountains just to the east of Aquilonia, unyielding Nemedian castles dominate the landscape, and now you can build your very own in the Exiled Lands!
Decorate your castle with striking vaulted ceilings, a wide selection of carpets, beautiful reliefs, a cozy fireplace, beautiful books, figurines, a stunning boar statue or the mighty banner of the dragon.
People of the Dragon Pack contains:
– 48 new Nemedian building pieces, including new options.
An expanded full set of building pieces with the same stats as existing tier three.
– 15 new armor pieces in three sets, such as the Nemedian infantry armor.
Light, medium and heavy sets with an epic end-game version of each.
– 12 new Nemedian weapons including a shield.
Same power as iron weapons with an epic end-game version of each weapon.
– 32 new placeables, such as books, a flag, bed and fireplace.
Craft them at the new Nemedian artisan bench.
– 3 new Nemedian horse saddles.
Equip your horse with a light, medium or heavy saddle.
All the new content in People of the Dragon Pack is exclusive to this DLC and adds a host of new visual options but does not give any in-game advantage in power. All the new items have comparable stats to existing items.
© 2020 Funcom Oslo A/S ("Funcom"). All rights reserved. © 2020 Conan Properties International LLC ("CPI"). CONAN, CONAN THE BARBARIAN, HYBORIA, and/or ROBERT E. HOWARD and related logos, characters, names, and distinctive likenesses thereof are trademarks or registered trademarks of CPI and/or Robert E. Howard LLC. All Rights Reserved. Funcom and Funcom Logo ™ & © Funcom Oslo A/S.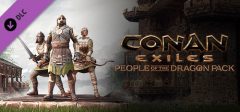 CONAN EXILES – PEOPLE OF THE DRAGON PACK
Informations
| | |
| --- | --- |
| Publisher: | Funcom |
| Studio: | Funcom |
| Label: | Funcom |
| Platform: | PC |
Minimum Requirements
| | |
| --- | --- |
| OS: | Windows 10 64 Bit |
| Processor: | Intel Quad Core i5-2300 or AMD FX-6300 |
| Memory: | 6 GB RAM |
| Graphics: | Nvidia GeForce GTX 560 (1GB) or AMD Radeon HD 7770 (1GB) |
| DirectX: | Version 11 |
| Network: | Broadband Internet connection |
| Storage: | 10 MB available space |
Recommended Requirements
| | |
| --- | --- |
| OS: | Windows 10 64 Bit |
| Processor: | Intel Quad Core i7 3770K or AMD Ryzen 5 1600X |
| Memory: | 8 GB RAM |
| Graphics: | nVidia GeForce GTX 780 Ti/970 (High settings) and 1070 (Ultra settings) or AMD R9 290/AMD RX480 (High settings) |
| DirectX: | Version 11 |
| Network: | Broadband Internet connection |
| Storage: | 10 MB available space |
Ratings
RATING SYSTEM: PEGI (Europe)
18+