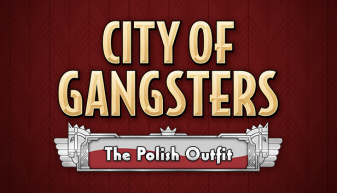 CITY OF GANGSTERS: THE POLISH OUTFIT
Genre:
Languages:
French Canadian and English, German, Russian, Spanish – Spain, Simplified Chinese
This content pack adds unique abilities when playing as Polish.
Embrace your Polish heritage while sipping on a traditional nalewka. Revolutionize local alcohol production with this new liquor type, and use your negotiating abilities to push for better pricing. Use your growing influence to support fellow countrymen and achieve a uniquely Polish legacy goal at the end of Prohibition.
Features:
Add Polish national colors and symbols to your safehouse, crew markers and other parts of the game
Create Nalewka from vodka in a new operation upgrade
Add two new skills for your crew: Spirited Palate and Patriotic Speaker allow you to negotiate for higher profit margins
Support the local Polish community with a unique series of missions
Unlock new clothing options and bring Polish fashion to your character portraits
Prosper through Prohibition with a new Legacy goal based on building distinctly Polish spirit productions
Kasedo Games is a division of Kalypso Media Group. Kasedo Games copyright © 2021 Kalypso Media Group
All rights reserved. All other logos, copyrights and trademarks are property of their respective owner.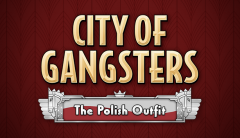 CITY OF GANGSTERS: THE POLISH OUTFIT
Informations
| | |
| --- | --- |
| Publisher: | Kasedo Games |
| Studio: | SomaSim |
| Label: | Kasedo Games |
| Platform: | PC |
Minimum Requirements
| | |
| --- | --- |
| OS: | Windows 10 |
| Processor: | Intel i5/i7/i9 or AMD Ryzen |
| Memory: | 8 GB RAM |
| Graphics: | NVidia GeForce 700 series or newer, AMD Radeon R5/R7/R9 200 series or newer, Intel Iris / HD 5000 or newer |
| DirectX: | Version 11 |
| Storage: | 1 GB available space |
Recommended Requirements
| | |
| --- | --- |
| OS: | Windows 10 |
| Processor: | Intel i5/i7/i9 or AMD Ryzen |
| Memory: | 8 GB RAM |
| Graphics: | NVidia GeForce 10 series or newer, AMD RX series or newer |
| DirectX: | Version 11 |
| Storage: | 1 GB available space |