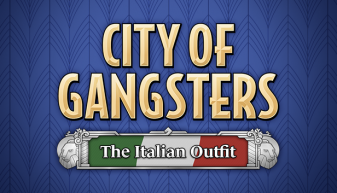 CITY OF GANGSTERS: THE ITALIAN OUTFIT
Genre:
Languages:
French Canadian and English, German, Russian, Spanish – Spain, Simplified Chinese
This content pack adds unique abilities when playing as Italian.
Make your way in the New World with some Italian flair and just a bit of fear and intimidation. As news of the Cosa Nostra spreads throughout the country, you can use that reputation to intimidate businesses and scatter rivals. Make a killing on producing and selling grappa, a unique Italian drink. Steal booze from rivals and cement your fearsome legacy at the end of Prohibition.
Features:
Add Italian national colors and symbols to your safehouse, crew markers and other parts of the game
Tear up your rivals in a new vehicle, The Bulletproof Car
Create Grappa from counterfeit wine in a new operation upgrade
Add a new skill for your crew: Enhanced Persuasion allows your crew to intimidate most businesses into working with you
Unlock new clothing options and bring Italian fashion to your character portraits
Prosper through Prohibition with a new Legacy goal based on stealing from rival gangs
Kasedo Games is a division of Kalypso Media Group. Kasedo Games copyright © 2021 Kalypso Media Group
All rights reserved. All other logos, copyrights and trademarks are property of their respective owner.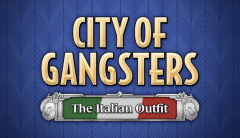 CITY OF GANGSTERS: THE ITALIAN OUTFIT
Informations
| | |
| --- | --- |
| Publisher: | Kasedo Games |
| Studio: | SomaSim |
| Label: | Kasedo Games |
| Platform: | PC |
Minimum Requirements
| | |
| --- | --- |
| OS: | Windows 10 |
| Processor: | Intel i5/i7/i9 or AMD Ryzen |
| Memory: | 8 GB RAM |
| Graphics: | NVidia GeForce 700 series or newer, AMD Radeon R5/R7/R9 200 series or newer, Intel Iris / HD 5000 or newer |
| DirectX: | Version 11 |
| Storage: | 1 GB available space |
Recommended Requirements
| | |
| --- | --- |
| OS: | Windows 10 |
| Processor: | Intel i5/i7/i9 or AMD Ryzen |
| Memory: | 8 GB RAM |
| Graphics: | NVidia GeForce 10 series or newer, AMD RX series or newer |
| DirectX: | Version 11 |
| Storage: | 1 GB available space |