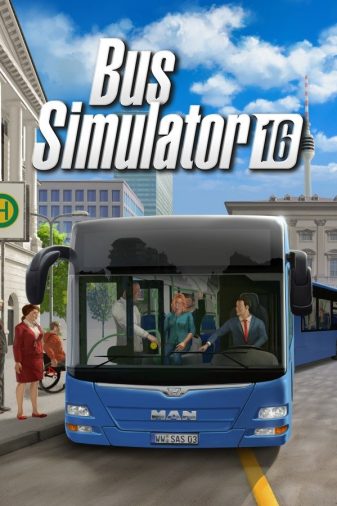 BUS SIMULATOR 16
Genre:
Languages:
Czech, Dutch, English (US), French Canadian and English, German, Hungarian, Italian, Japanese, Polish, Russian, Spanish – Latin America, Turkish, Portuguese-Brazil
A gigantic, freely accessible world is waiting for you in Bus Simulator 16. Transport your passengers to their destinations across five authentic city districts safely and on time. Drive a two-door, three-door, or a true-to-life articulated bus through commuter traffic at rush hour, watch out for emergency vehicles, and take detours around construction sites. Make sure that you are always aware of your surroundings or you will get into trouble for accidents and traffic violations!
Apart from driving you will also have to maintain order on the inside of your bus. Calm upset passengers, repair stuck doors, sell the correct tickets, and extend the ramp for wheelchair users in a timely manner. You will have to be efficient if you want to stick to your schedule and increase your reputation in the city, earn the trust of your passengers and most importantly make lots of money! The better your reputation, the larger the contracts you will be able to secure, and the more buses will be available to your company in the shop. Unlock additional districts of the city and carefully plan routes for bus drivers in your employ, who you can hire through the ingame job exchange.
As you grow more and more successful, you will also be able to acquire advertising banners for your buses, which will bring in some additional funds. If you are not satisfied with the appearance of your buses, you can paint and decorate them with unlockable decals, ensuring that your passengers will reach their destinations in the coolest way possible.
Multiplayer Mode
You think bus drivers are lonely? Not in Bus Simulator 16! Invite your friends into your game in the multiplayer mode and let them take over some routes for you. The money they earn can be used to expand your shared company and thus contributes to the optimization of public transport in your city.
Modding
You want to drive even more buses and arrange Sunny Springs to fit your expectations? Reconstruct the city to suit your own taste: Bus Simulator 16 is mod-friendly, and you can use programs like Blender and Gimp to adjust the visual appearance of the existing buses to your liking, as well as integrate your own custom buses and buildings into the game.
– 13 realistic buses: 2 door buses, 3 door buses, and articulated buses
– With various originally licensed buses from Mercedes-Benz and MAN
– With all currently released updates and DLCs
– Gigantic, freely accessible city with 5 authentic districts that you can unlock one by one for a great open-world experience
– Plan your own routes and drive them yourself
– Drive your routes in single or round trips
– A multitude of pedestrians and vehicles with different behaviors bring the city alive
– Various challenging traffic situations (rush hour, road works, protest marches, emergency vehicles)
– Unforeseen situations such as stuck doors and special requests from your passengers constantly demand your attention
– Follow the traffic rules and stick to your schedule in order to unlock the various buses, districts, and missions
– Manage your company, hire drivers with various characteristics and skills, and optimize your routes as well as your -profit
– Manage your bus company with your friends in the multiplayer mode
– Customize your buses with different colors and decals
– Modding: Customize your buses and your city to suit your individual taste, create new buses, and integrate them into the game
– Support of common steering wheels and gamepads
– English voices
©2017 astragon Entertainment GmbH. Developed and distributed by astragon Entertainment GmbH. Bus Simulator 16, astragon and astragon Entertainment and the associated logos are the property of astragon Entertainment GmbH. Manufactured under license from MAN. All rights reserved. All other names, brands, and logos belong to their individual owners.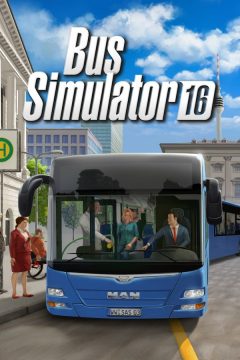 Informations
| | |
| --- | --- |
| Publisher: | Astragon Entertainment GmbH |
| Studio: | stillalive studios |
| Label: | Astragon Entertainment |
| Platform: | PC |
Minimum Requirements
| | |
| --- | --- |
| Requires a 64-bit processor and operating system | |
| OS: | Windows 7/8/10 64 bit |
| Processor: | Intel Core i3 with 3.3 GHz / AMD Phenom II X4 96OT with 3.0 GHz or comparable processor |
| Memory: | 4 GB RAM |
| Graphics: | GeForce GTX 470 (1 GB VRAM) or comparable graphics card |
| DirectX: | Version 9.0 |
| Storage: | 5 GB available space |
| Additional Notes: | List of unsupported graphic chips (excerpt) |
Recommended Requirements
| | |
| --- | --- |
| Requires a 64-bit processor and operating system | |
| OS: | Windows 7/8/10 64 bit |
| Processor: | Intel Core i5 with 3.40 GHz / AMD FX-8320E with 3.2 GHz or comparable processor |
| Memory: | 8 GB RAM |
| Graphics: | GeForce GTX 660 (2 GB VRAM) or comparable graphics card |
| DirectX: | Version 9.0 |
| Storage: | 5 GB available space |