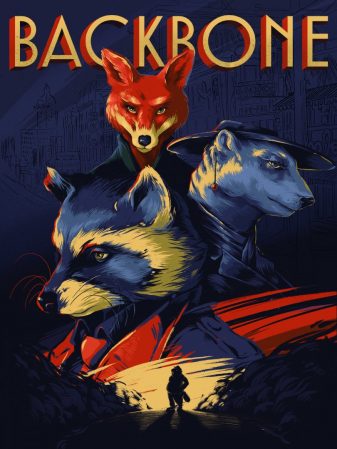 It takes a certain kind of person to take on the greatest evils of the world. A keen intellect. Relentless courage. An unstoppable desire to see justice done. 
But you? You're just trying to make rent.
You're not special. You're not a hero. Thrust into unfortunate circumstances, you find yourself with no other option than to unravel what might be your biggest case yet.
Get to work, detective.
ABOUT BACKBONE
Backbone is a post-noir roleplaying detective adventure, in which you step into the shoes of raccoon private investigator, Howard Lotor, and explore dystopian Vancouver, BC, beautifully rendered in high resolution pixel art.
After years of small-time cases, lonely evenings, and just barely scraping by, Howard Lotor is swept into a job quite unlike any other before it. What starts as a menial case slowly unravels into something much darker, pitting Howard against the oppressive, systemic power hierarchies of the City itself.
GAMEPLAY
Backbone's gameplay is a modern take on the classic point-and-click adventure, featuring stealth, exploration, and elaborate dialogues inspired by old school CRPGs.
As Howard, you will:
– Make meaningful connections with a diverse cast of characters in pursuit of truth
– Explore both flourishing and decaying districts of a now walled-off Vancouver
– Uncover clues and collect evidence
– Solve puzzles and sneak around
– Be a raccoon
Post-noir dystopia
Backbone's Vancouver is a dangerous place, bleak and dreary, but not entirely without hope. It's a tale of a cold and existentialist world, interspersed with genuine connections and a bruised but undying drive to make a difference. Everyone wants to change the world, but not always for the better.
Stunning visuals
The breathtaking combination of high-resolution pixel art and 3D effects like dynamic lighting, pouring rain, volumetric fog and neon lights bring the sprawling city to life.
Evocative and unforgettable soundtrack
An original soundtrack by Danshin and Arooj Aftab is expertly crafted to create a cinematic, atmospheric, and simply jaw-dropping soundscape. You've never heard dystopian doom jazz quite like this.
© Copyright 2021 EGGNUT. Developed by EGGNUT. Published by Raw Fury AB. All Rights Reserved.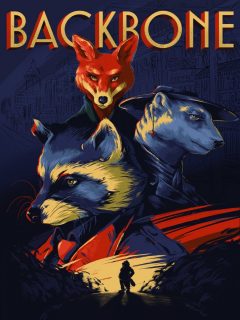 Informations
| | |
| --- | --- |
| Publisher: | Raw Fury |
| Studio: | EggNut |
| Label: | Raw Fury |
| Platform: | PC |
| | |
| --- | --- |
| OS: | Windows 7 |
| Processor: | Multi-core 1.8GHz or faster |
| Memory: | 4 GB RAM |
| Graphics: | Nvidia GTX 760 or equivalent |
| Storage: | 1 GB available space |
Recommended Requirements
| | |
| --- | --- |
| OS: | Windows 7 |
| Processor: | Multi-core 2.5GHz or faster |
| Memory: | 8 GB RAM |
| Graphics: | Nvidia GTX 950 or equivalent |
| Storage: | 1 GB available space |
Ratings
RATING SYSTEM: ACB (Australia)
Coarse Language
M
Mature Themes
Sexual References
RATING SYSTEM: ESRB (US & Canada)
MATURE
SEXUAL THEMES
STRONG LANGUAGE
USE OF TOBACCO
RATING SYSTEM: PCBP
18+
Drugs
Language
Sex
Violence
RATING SYSTEM: PEGI (Europe)
+16
Strong Language
Use of Alcohol
Use of Tobacco
RATING SYSTEM: USK (Germany)
16
Explicit Language
Sexual Innuendo
Tobacco Use