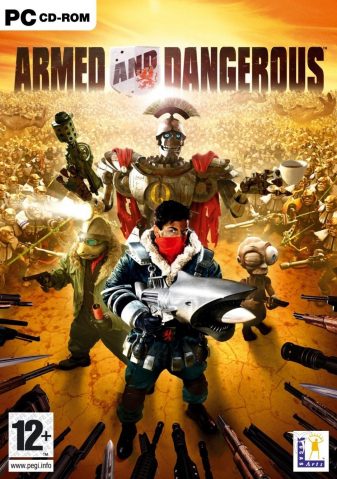 ARMED AND DANGEROUS
Genre:
Languages:
French Canadian and English, German, Italian, Spanish Mexico
Meet the Lionhearts.
A smack-talking rag-tag band of rebels bound on an impossible quest. With an arsenal of outrageous weapons, they're destined for victory in 12,000 bullets or less. If they can make it through an army of psychotic robots and a wall-smashing Goliaths, they just might save the world… if they don't burn it down first.
– Navigate through a richly entertaining story with your smack-talkin' partners in crime.
– Take down wicked enemies like half-man, half-animal Grunts, eliminator droids, wall-smashing Goliaths, evil monks and wild twiglets.
– Brandish over 17 outlandish weapons like the Topsy-Turvy, the Vindaloo Rocket Launcher, or the World's Smallest Black Hole and the Land Shark Gun.
– Explore five diverse environments including icy and snowy regions, mountains with breathtaking vistas, deep and foreboding woods, and rain-spattered cliffs.
– Shoot your way through 21 action-packed missions.
LucasArts and the LucasArts logo are trademarks of Lucasfilm Ltd. in the United States and/or other countries. © 2003 -2009 Lucasfilm Entertainment Company Ltd. and Planet Moon Studios & ® or TM as indicated. All rights reserved. Published by LucasArts. Developed by Planet Moon.
Informations
| | |
| --- | --- |
| Publisher: | Disney |
| Studio: | Planet Moon Studios |
| Label: | LucasArts |
| Platform: | PC |
| | |
| --- | --- |
| Graphic: | 32 MB |
| OS: | Windows XP |
| OS: | Windows Vista |
| OS: | Windows 2000 |
| CPU: | Pentium III 1GHz |
| CPU: | AMD Athlon 1GHz |
| Memory: | 0.256GB |
| Storage: | 4.5GB |
| Sound: | DirectX9.0 |
Ratings
RATING SYSTEM: ESRB
CRUDE HUMOR
MILD LANGUAGE
TEEN
VIOLENCE
RATING SYSTEM: PEGI
+12
Bad Language
Violence
RATING SYSTEM: USK
16